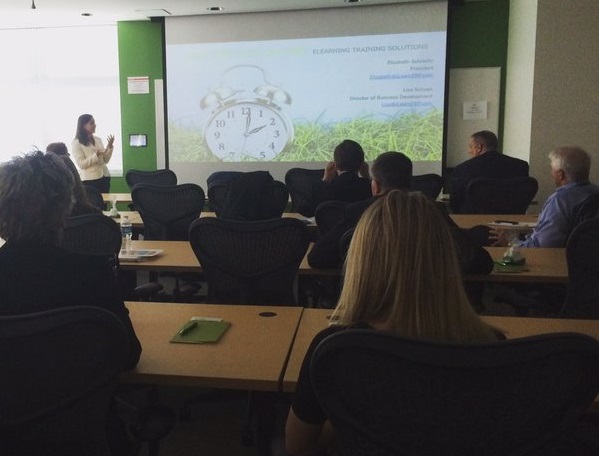 We are having a blast at the JD Edwards Partner Summit 2016. Catching up with old friends, attending sessions, learning all the latest and greatest in the Oracle JD Edwards world, meeting new faces, and showing off the latest features of our EOne Academy™ 2.0. We are mid-week through the conference as I write this blog, which means we survived the snow storm on Monday and Tuesday and the sun is shining today! It's also a great day because today we got to share at one of the breakout sessions what we are most excited about in JDE Training. We got to present with CSS International about how on-line JDE Training saves time and money, AND results in the highest knowledge transfer in comparison to on-site training or the basic use of ILT.
Many people are surprised when we tell them the differences between ILT and eLearning in results. eLearning is not just cost-effective and on-time, it also results in a 90% knowledge transfer in comparison to a 60% knowledge transfer with ILT. Why is that you ask? Because with eLearning, learners can pause, repeat and return to content when and where they need to in order to gain the knowledge and skills they need. They can also take in content in shorter blocks, accommodating attention and energy spans in comparison to the long hours that can come with other forms of training. In order to maximize JDE knowledge and retention, we present a variety of learning formats, resources, and accessibility on any device, anywhere.
In addition to knowledge transfer, we provide the most cost-effective JDE Training on the market today. CSS International went from a six figure training budget down to well under a five figure training budget for JD Edwards training using the EOne Academy™.  When we worked with CSS, our learning advisors helped them plan their learning curriculum in the EOne Academy™. Their new consultants could immediately begin actively taking introductory courses to progress to taking quizzes and completing activities in order to prepare for the Oracle Certification exams. More seasoned consultants could brush up on additional functionalities such as UPK, OVR, or other modules, and new consultants could always return to the material later. All the while, our learning advisors remain available for continuing mentoring and coaching while the consultants begin to become active in the field. The quote from CSS International below summarizes the result:
Like this? Please share.