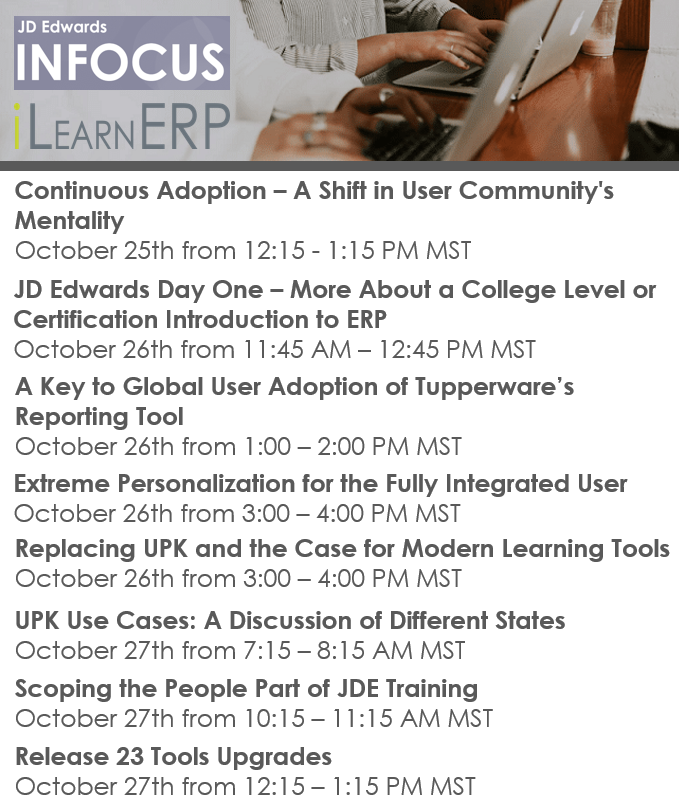 JD Edwards INFOCUS begins October 24th, 2022! This year INFOCUS is a virtual event and will dive deep into Release 23, Orchestrator, No code/low code, Digital ERP, JD Edwards on OCI, Automation, UX One, Personalization/Extensibility and more! We'll be at the virtual conference and in addition to at our live virtual booth, where can you find iLearnERP at the conference?
Continuous Adoption – A Shift in Our User Community's Mentality – October 25th from 12:15 – 1:15 PM MST
This session is centered around Oracle's position to do continuous releases of EnterpriseOne. Moving forward the E1 community is shifting from the idea of continuous release as an obstacle to an ongoing opportunity to improve your users experience and your company's efficiency. In this session we will stop to recognize that the move to continuous adoption is here to stay and that requires that we carefully implement strategy focused on the benefits and ease of updates. Change management is often viewed as difficult but with adoption of the continuous release model, we see that change can become part of the business cycle.
JD Edwards Day One – More About a College-Level or Certification Introduction to ERP – October 26th from 11:45 AM – 12:45 PM MST
In today's digital business environment, success depends on people that can support rapidly changing markets and regulations. How will you get new JDE talent on your team?
Discover how college students or job trainees can be better prepared to add value as new hires. "J.D. Edwards Day One" was developed together with the CFO of a "JDE" customer, and a professor at the Graduate School of Management of Kansas State University to provide students with hands-on introduction to ERP using Oracle's EnterpriseOne as the example software. iLearnERP provides the hands-on part and will join me in telling you our successes and exciting future plans. We will show you examples of pre-recorded, on-line course materials, exercises, and quizzes for this 15 lesson class that gives students an intro to ERP, UX-One, and then follows a sample company through GL/JC, Procurement/AP, Inventory, Sales/AR, and back to reporting and beyond to Digital Transformation.
See a college-level, hands-on ERP awareness class that inspires and equips a new generation to be savvy around ERP. See how new hires with this background can reduce your stress of bringing them up to speed on your ERP/JDE system. Get a bird's eye view of the J.D. Edwards Day One course — pre-recorded lectures, extensive supporting materials, executive insight video's, self-guided hands-on exercises, a student view of the iLearnERP End User Academy, on-line quizzes, term papers and final essay exams. See how your local higher education institution or non-credit business/jobs training program to get access through the KSU distance learning options and ERP/JDE facilitators. Hear ideas for expanding to future "Days" with more ERP scope.
A Key to Global User Adoption of Tupperware's Reporting Tool – October 26th from 1:00 – 2:00 PM MST
Tupperware has multiple JDE instances around the globe, making reporting in a consistent format using a common tool a challenge. Part of this opportunity is having the right tools, but a larger part is user adoption. This session will discuss the keys to Tupperware's success in achieving a high rate of user adoption for a new, standard reporting tool across the organization.
Review software selection challenges including the need for multiple JDE instances and releases, to use data outside of JDE and to create templates to be shared across global markets
Discuss how to gain buy-in from each business unit to leverage a new tool including the benefits of a common tool and output, global shared knowledge and lower cost of ownership
Understand how to promote and sustain user adoption through training options for busy users, internal and external support options for implementation and on-going support
Extreme Personalization for the Fully Integrated User – October 26th from 3:00 – 4:00 PM MST
In this demo we will show the full extent of what you are able to use with personalization for any JD Edwards application. We will show how to use every feature in as many combinations as possible so that your users can take advantage of these tools.
This session will reveal to users the upper limits of using all of the UX One Tools by showing Composed Pages, Café 1 Layouts and Application Personalization examples. This session will also demonstrate how easy it can be to create such extensive uses with planning and forethought, and will reveal that there are very few limits to building extensive composed pages and Layouts when using the imagination.
Replacing UPK and the Case for Modern Learning Tools – October 26th from 3:00 – 4:00 PM MST
Whether you use UPK or are evaluating in-application performance support options, this presentation will provide you with the resources to evaluate whether your current learning tools meet your goals and objectives, and what the process of further tool selection holds. We'll discuss the current state of Oracle UPK end of life and provide an inside look at UPK replacement tools and training platforms for learning in the flow of work. We'll also discuss our employee performance support tool selection process and share our Evaluation Criteria checklist. Want to stick with UPK? We'll share best practices for administration and uplifting your current UPK content.
Learning can transform people's relationships with the technologies they use on a daily basis, so we'll discuss the discovery, design, and build process for meeting learners at the point of need. We will also look at how to evaluate the current state of a UPK or EPS installation and content components, as well as lay out  the options for UPK replacement and review the most common success criteria for learners.
UPK Use Cases: A Discussion of Different States – October 27th from 7:15 – 8:15 AM MST
In this roundtable we will facilitate a discussion on customers in their current state with real-life examples of customers who have left UPK to move on to other employee performance support tools, customers who have stuck with UPK for now, and customers who are in the process of evaluating UPK and UPK-like options. We will open it up for customers to share their current experiences, questions and processes in supporting users during upgrades, new releases and implementations.
Learn about real-life scenarios of the process of exploring employee performance support tools beyond UPK and the pro's and con's of implementing different UPK-like tools. Gain insights from other customers encountering the UPK-sunset and what is involved in staying with UPK as a training tool. Explore current state definition status of UPK issues, get access to selection criteria documentation, what tools are available for demo, and how to move through buy decision and price negotiations.
Scoping the People Part of JDE Training – October 27th from 10:15 – 11:15 AM MST
This presentation will explore modern options available for learning JDE to support upgrades, new releases, and moves to the cloud. If you're wondering how and where training should fit into your overall ERP budget and looking for best practices or percentages related to your overall total budget spend, this presentation will also provide the answers to questions that customers often seek in order to maximize the dollars spent on JD Edwards and overall business performance related to how much training to provide users, and what cost-effective, modern options are available to support training content creation and deployment.
Discover best practices related to the percent of overall ERP budget spend on training and the return to expect on your organization's investment in training, learn about what training options are available to support your JDE users and the pro's and con's of different types of learning mediums and explore how to reach all of your users and support the people that contribute to your organization's success.
Release 23 Tools Upgrades – October 27th from 12:15 – 1:15 PM MST
In this session we will look at the new Release 23 Tools upgrades so that you can preview the tools that can make your environment more efficient. Join us as we look at the just released tools and examine some of the features in this exciting release.
We will look at the new set of Tools upgrades that have been released in Release 23, demonstrate some of the new features and highlight their value for the E1 user community. We will also look back at Release 22 and see how it has moved the needle forward.
Like this? Please share.