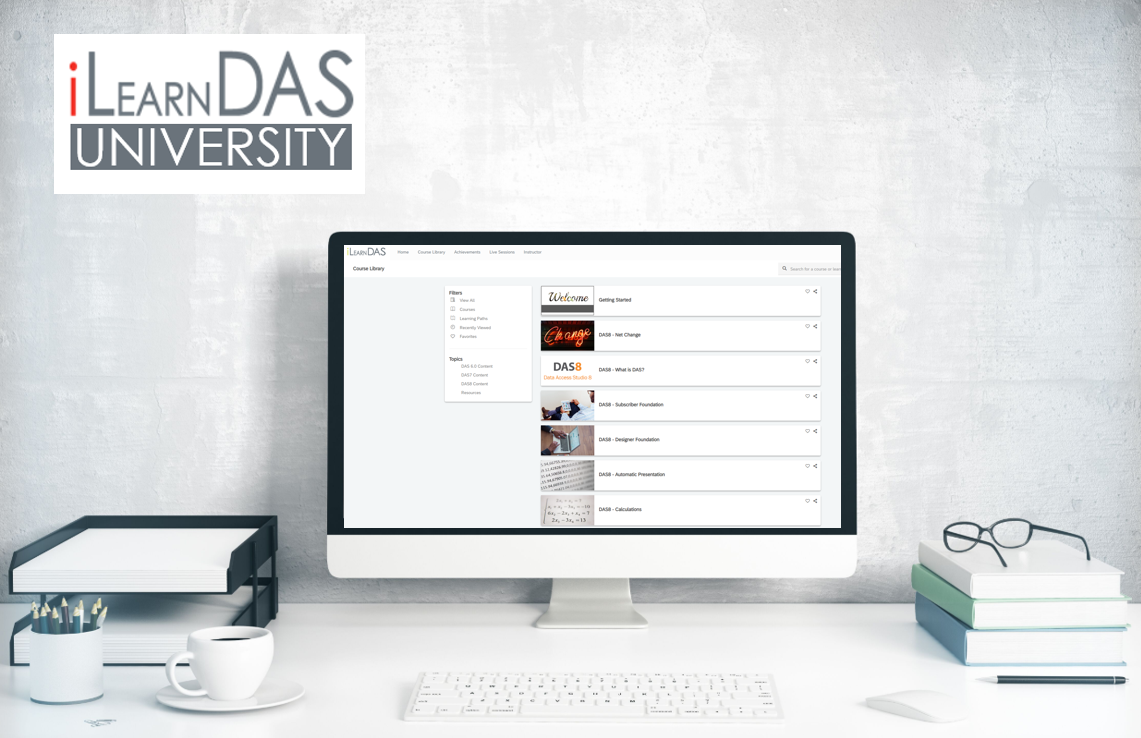 Subscribers to DAS University can now find new DAS8 Courses, Learning Paths and Recorded Webinars! Our new DAS8 Net Change course introduces the changes form DAS7 to DAS8 and covers what is new with the DAS8 release. DAS University subscribers will also be guided through new DAS8 content within the Course Library. These courses include:
What is DAS?
Subscriber Foundation
Designer Foundation
Automatic Presentation
Calculations
Financial Quick Start Wizard
Bursting
Joins and Table Lookups
Each month we offer live webinar training opportunities for our subscribers, and this month we will also be offering a DAS8 Net Change Feature Deep Dive. The 10 hours of live webinar training each month also includes DAS Basics, DAS Intermediate and DAS Advanced.
Not updated to DAS8 yet? No problem! DAS University still includes all DAS 6.0 and DAS7 training content. A DAS University subscription also provides easy access to robust resources, including QRC's, Student Manuals and step-by-step solution ideas. As a part of the subscription to DAS University, subscribers also have the opportunity to use our unlimited Ask-a-Trainer feature for one-on-one, 24/7 support from our training experts.
Interested in a subscription to DAS University so you and your team can take advantage of our ReportsNow Training? Contact us for a personalized demo.
Like this? Please share.