The People Part of Your ERP Solution
Online, 24x7, Personalized, Comprehensive, Current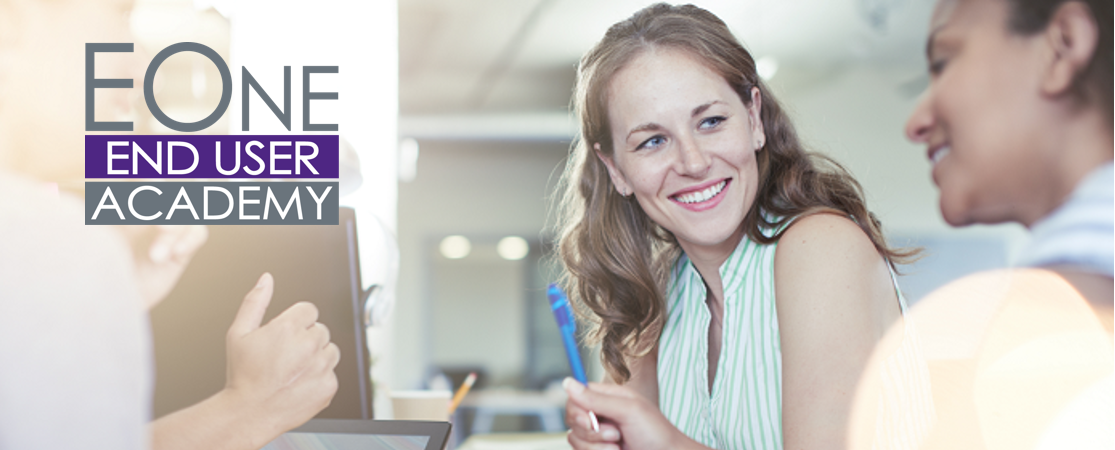 A single-source online education center to train self-sufficient end users
The EOne Academy™
A JD Edwards Training University
With over 800 courses
A full online JD Edwards University with short videos on each topic, expert screen casts instruction, custom learning paths, supporting materials, quizzes and a live Learning Advisor.
Cloud Adoption
Intuitive user adoption models including CCT
Make your move as agile as the Cloud
We can help ensure that the people part of your move to the Cloud is successful through clear processes, organizational alignment, change activities, and training.
UPK
Need a UPK Health Check?
Maximize your UPK investment
We offer strategic analysis to optimize the tool for successful training and user adoption. Our innovative solutions are designed to get the most out of UPK.
Instructor Led Training
Sometimes there's nothing better than a live trainer
Collaborative learning from the experts
On-site custom courses that include blended learning options for on-line support, such as videos, UPKs, or other easily accessible printed resources.
Custom LMS
Your Content + Our Cloud = Learning Management Made Easy
LMS Experience
We offer a Custom LMS to create, host, and deliver your training on an intuitive, secure platform for a modern experience today's learners crave.
DAS University
Get the most out of your ReportsNow solution with on-demand learning resources!
Learn DAS or advance your skills
View hundreds of short tutorials created by our certified DAS training team, access a trainer 24/7 for support, join our weekly live webinar series, and access other on-line resources.
Tired of the same old training methods? Custom solutions to reach your audience:
Knowledge transfer with eLearning solutions like ours
Knowledge transfer with ILT alone
Reach all users with a variety of resources and formats
Save $ with the most cost-effective solutions on the market
Need a UPK Health Check? Contact us to see what we can do for you.

"iLearnERP is CSS's go to partner for JD Edwards training. Their EOne Academy has innovated how we train and on-board new hires. We rely on iLearnERP for 95% of all our JD Edwards training and the EOne Academy is an integral part of our talent development program. Over the past two years CSS has hired close to 20 young professionals with little to no JD Edwards experience. iLearnERP is the JDE training tool to get these resources up to speed and ready for their first assignment. CSS also uses iLearnERP to keep our senior level consultant updated on the latest changes with the JD Edwards solution. With iLearnERP offering training on JDE's new UI, E1 pages, OneView, Cafe1 and net change training, CSS is able to offer our clients to most up to date JDE solutions."
iLearnERP has done a great job of facilitating our E1 Upgrade webinars. I've appreciated having them do this for us and the feedback we're getting from the business has been very positive as well
"We initially purchased seats for three new consultants. We immediately saw the benefits of the training tool and purchased an additional four seats. We've used the EOne Academy for new industry hires that knew nothing about JDE and the EOne Academy to cross-train seasoned JDE consultants. The industry hires took advantage of all that they can get their hands on while the seasoned consultants used it with acute focus. Having a personal learning advisor as part of the EOne Academy subscription has been wonderful. As an organization, we have been able to choose what specific content we want available to each consultant. The structure of the online university makes it easy for those just needing an overview to skip ahead, maneuver and select pertinent information; effectively and efficiently. The EOne Academy is a cost effective tool to add to any training curriculum."
I enjoyed training a lot! I heard a ton of very useful information and everything was really well presented, clear and informative.
The EOne Academy has been a great tool for us and has really helped get our new team members up to speed!
This is the best training I have ever taken!
Wondering how training fits into an ERP implementation budget? Looking for best practices or percentages related to total budget spend for your ERP? We often receive questions from our customers related to how many [...]