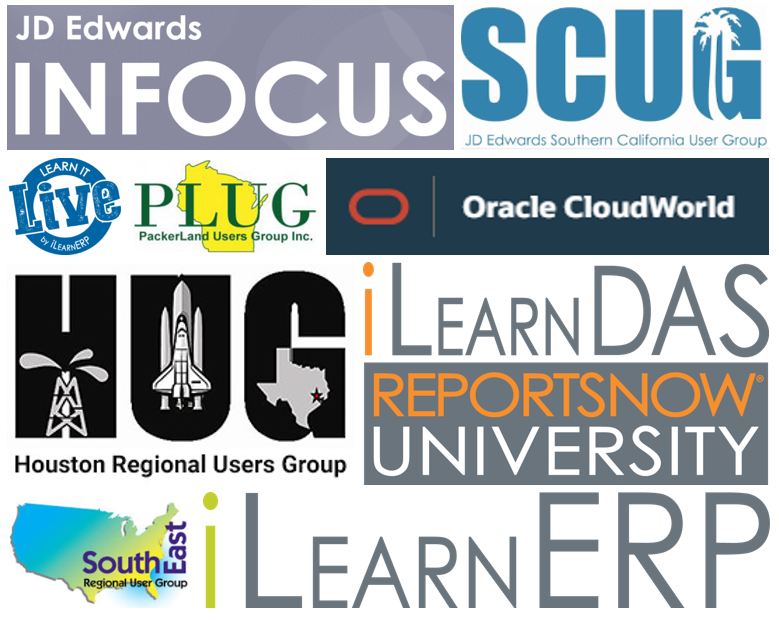 As we continue on into Q3 and roll into Q4 we thought we'd share some great JD Edwards learning and socializing opportunities!
Houston Regional User Group September Meeting – Join us at the Houston Users Group meeting at Maggiano's Little Italy at 2019 Post Oak Blvd., Houston, Texas on September 7th. This event includes a hot breakfast and hot lunch buffet with a general session, lunch sessions and breakout sessions. Register here.
Southern California User Group In-Person Event – Join SCUG and iLearnERP September 22nd! This long-awaited event is at the Doubletree Santa Ana OC Airport and includes in-person networking, interesting topics, free parking, good food and much more! Register here.
Learn it Live: Introducing JDE Quality Management – In this session on Thursday, September 22nd from 1:00 – 2:00 PM MST, we discuss the Quality Management system in JDE EnterpriseOne, which helps users record and manage data that relates to the material quality of the products. We will cover a typical process involving Quality, including reviewing tests set up for review, will discuss Quarantine Statuses in QM, review and discuss test results and get preference profiles set up for clients who use Quality Management. All items covered are related to multiple Distribution and Manufacturing processes. This session is available to our subscribers. Please contact us here for more information.
ReportsNow DAS University Webinars – Every month we offer 10 hours of live webinar training for our DAS University subscribers! This month, our live sessions are during the week of September 26th-29th. If you already have a subscription, register for the webinars by logging into DAS University and clicking the Live Sessions menu. Interested in a subscription? Contact us here.
Oracle CloudWorld – Don't miss the first ever Oracle CloudWorld event in Las Vegas from October 17th-20th, 2022. Learn how end-to-end automation and industry-tailored solutions are helping businesses just like yours solve problems, lead the way and shape the future. Register here.
JD Edwards INFOCUS 2022 – Join us for the global JD Edwards event of the year from October 24th – 27th! This digital event provides practical, hands-on learning for the JD Edwards experts, industry innovators, technology leaders and Oracle product teams for insights, education and information. Get ready to dive deep into Release 23, One-Click Provisioning, Orchestrator, UX One and personalizations! We will be presenting several sessions and will be available in our booth so stay tuned for more information and make sure to get registered for this event!
PackerLand User Group November Meeting – Save the date for the next meeting of the Packland User Group on November 3rd. More information on this event coming soon!
Southeast RUG Annual Holiday Party – Save the date for the annual Southeast RUG holiday party on December 8th. You won't want to miss the fun so stay tuned!
Like this? Please share.