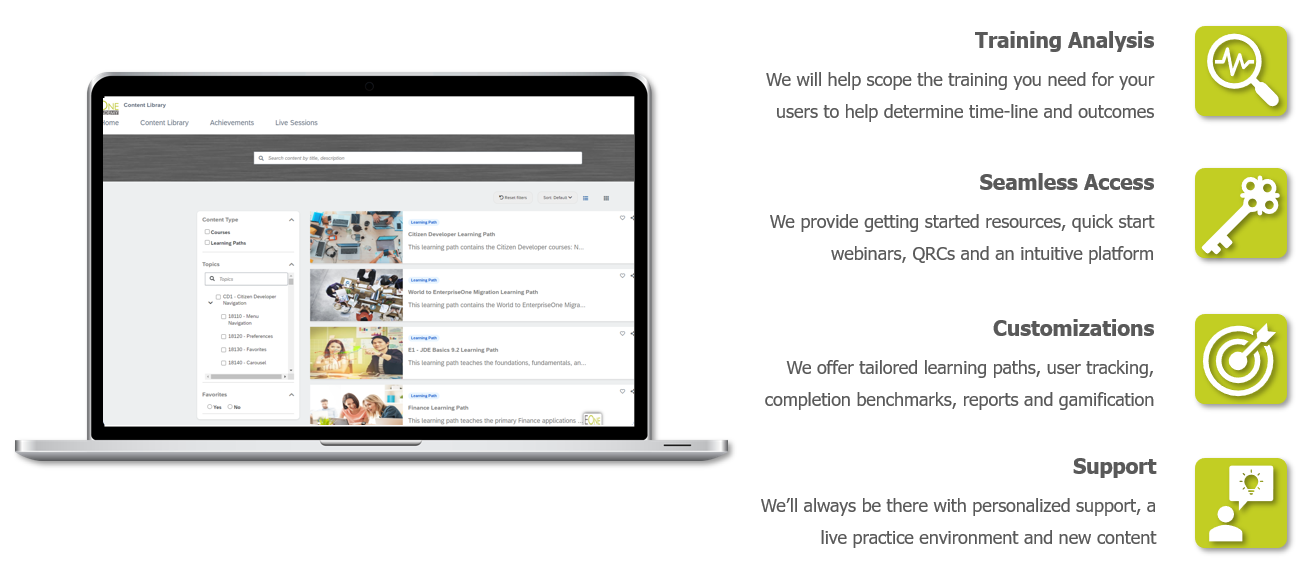 Want a customized JD Edwards online training experience? We'll begin with a training analysis to help you identify the scope of the training you need, the number of users who need access, types of content and courses, your training time-line, and we'll work within your budget as the most cost-effective JDE training solution on the market. Our training is also modern for a learner-centric experience with customized learning paths, user and compliance tracking, assistance with customized reporting and analytics, gamification and leaderboards. We'll ensure the onboarding process is easy and straightforward for you and your team with getting started resources, clear communications, and a personal learning advisor. We will continue to offer the support you need after onboarding with live webinar help sessions, a practice environment, news and announcements, updated content, and learn it live training opportunities.
What else? With over 30 modules and 900+ courses, our innovative training solution is comprehensive and available 24×7 on any device. Subscribers can access video instruction by senior JDE instructors, quizzes based on Oracle Certification exams, module case studies, related white papers, and associated Oracle implementation guides. Areas include:
Orchestrator
World to E1 Migration
Oracle Certification Exams
Basic Navigation
Distribution
Finance
Human Capital Management
Consulting (For Partners)
Manufacturing
Technical
One View
UPK – User Productivity Kit
Grower Management
Interested in a subscription? Contact us today for a personalized demo.
Like this? Please share.