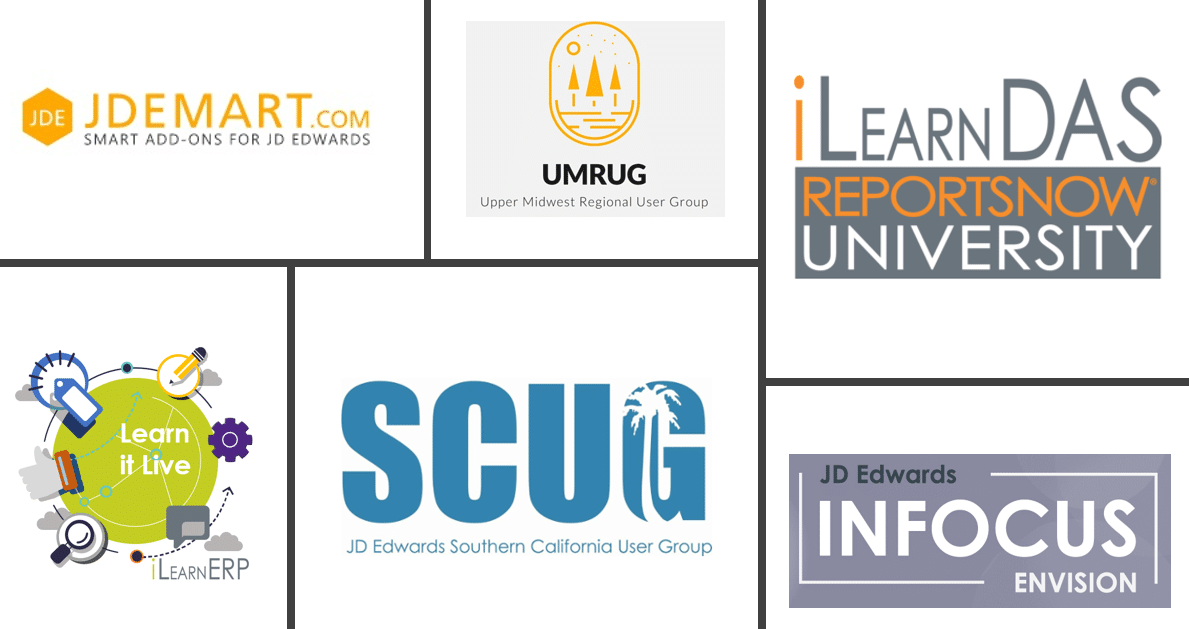 We love being an active member of our JD Edwards community, and events are really starting to pick up again! Some of the events below are hosted by us, some of them are regional user groups that meet quarterly, and some of them are larger yearly events. Below are the event descriptions and links for more information and sign up where we hope to see you:
ReportsNow DAS University Webinars – Every month we offer 10 hours of live webinar training for our DAS University subscribers! This month, our live sessions are during the week of August 16th – 19th. If you already have a subscription, register for the webinars by logging into DAS University and clicking the Live Sessions menu. Interested in a subscription? Contact us here.
SCUG August 2021 Virtual Roundtable – Join us to learn how to use UX one to Expand Learning and Support! Registration for this event on August 19th is free. Learn more here.
Learn it Live: AR Invoice Processing – In this session on Thursday, August 19th from 1:00 – 2:00 PM MST, we cover the 3-tier invoicing process (Create, review, and post) in Accounts Receivable. We will distinguish standard invoices from speed invoices and include discussion on revising and voiding invoices and when to do so. The sessions concludes with key inquiry and report examples. Interested in a subscription to the EOne Academy to access this and other Learn it Live events? Contact us here.
Train All Your JDE Users Online, Affordably and in One Place – If your organization is in need of a modern training platform, training support, curation or training development in addition to JDE training, come learn about how we also offer a full-service learning destination for teams where we can host EOne Academy or End User Academy content, any customized JDE training you have or need, or training on any application your organization uses for a one-stop learning experience. Click here to register for this event on August 24th, or here to register for this event on August 26th.
UMRUG August 2021 JDE Roundtable – Join iLearnERP and the Upper Midwest Regional User Group on August 25th for an open discussion with local JDE users. Collaborate about current struggles or success in the industry. Click here to register.
Like this? Please share.