JD Edwards

Training Project Life-Cycle Expertise
The science behind Adult Learning Theory and Instructional Design is just that- a science. These precise and powerful tools can motivate even the most skeptical learning communities to adopt and master the system.  During the discovery phases of your training project, we will assess the needs of your community, fold in your key risks, leverage available tools and provide a solution that not only produces adoption but delivers user excitement!  We will collaborate with you through the process of the material build of the project, deployment, as well as any additional live experiences for ILT or OJT. Our ability to deliver blended learning with live and virtual courses, along with our experience in developing TTT (Train the Trainer) materials and instructions sets us apart from the pack. We will continue to be with you through the entire project, and even post go-live as we implement and deploy training.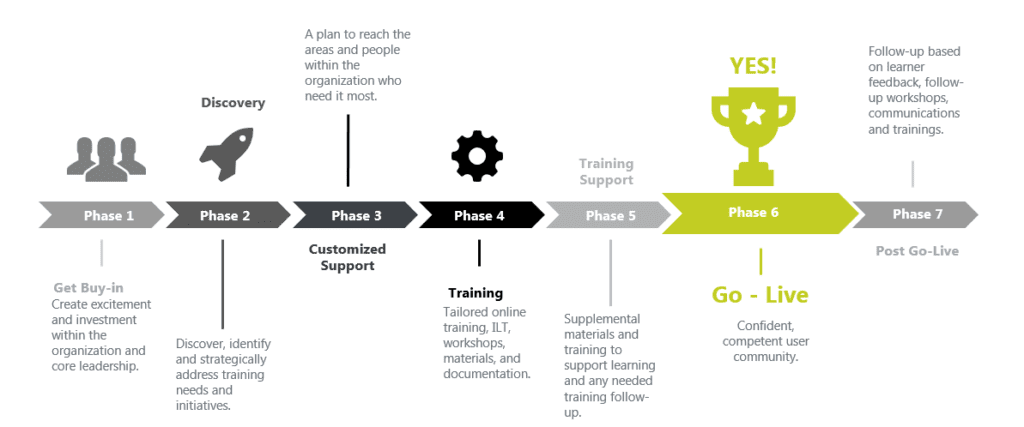 JDE
Experience
The experience of our team spans industries, cultures, modules, training tools, and user communities. Every project is different, and there is not a JDE training problem we haven't tackled! We bring our experience and continual learning to the needed JDE modules and JDE tools such as UPK to successfully design, develop and deliver effective training.
Proven Training Methods
iLearnERP uses proven training methods founded on ADDIE principles (Analysis, Design, Development, Implementation, and Evaluation). Accurate, thorough documentation in and of itself does not often result in an adequately trained, self-sufficient and thoughtful workforce. Our ERP updated iADDIE training philosophy allows us to produce high impact training materials without additional burden on the project team. We leverage documentation you're already producing, natural activities of the implementation and our templates and models to accelerate the development process.

"Superior performance is achieved by having a superior process design, the right people to perform it and the right tools for them to work with." Dr. Michael Hammer
Our training philosophy has consistently followed Dr. Hammer's core elements for many years – having the right team of JDE and training experts who have templates and models from which to begin and who are supported by a JDE specific learning methodology in iADDIE. This recipe provides tools for projects from global implementations to providing documentation for one targeted audience.