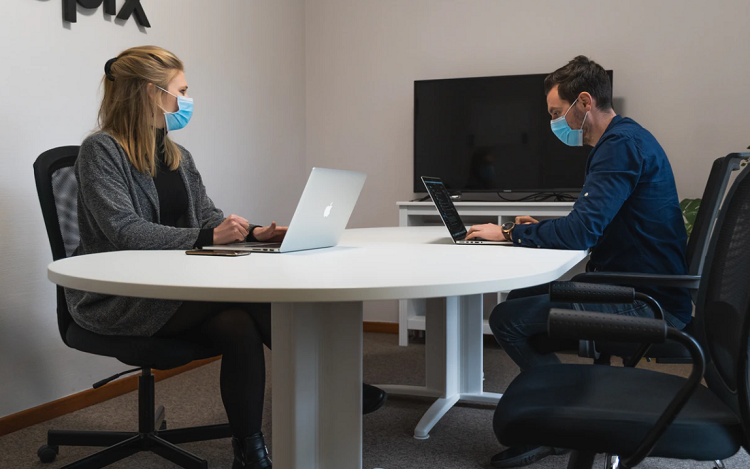 The Covid-19 pandemic has continued to impact all business sectors and re-define the workplace well into 2021. As states continue to reopen and redefine safety standards and protocols, the modern workplace continues to evolve, and with it, the modern workforce. In "The Future of Work after Covid-19" (Feb. 18th, 2021) the McKinsey Global Institute notes that prior to the pandemic, the biggest workplace disrupters were new technologies and increasing globalization. When the pandemic hit, the disruptions were felt beginning with the physical dimension of work, from traditional office space, to the warehouse floor. Jobs with the highest physical proximity felt the greatest impacts, beginning with medical and personal care professions, followed by businesses with on-site customer interaction, and indoor production and warehousing. Office and corporate headquarters fell into the middle of the impacted spaces, followed closely by classrooms of all types and sizes, and industries that supported the transportation of goods or outdoor production and maintenance.
From schools to entire corporate headquarters, industries that could go remote took on a whole new way to support their businesses. As the pandemic wore on, organizations increasingly adjusted to and supported their remote workforce with better tools and technologies. The pandemic likely sped up an already present trend of using technology in the workplace to stay connected and get work done. The McKinsey Global Institute offers three takeaways for what we can expect to continue or accelerate in the post-pandemic workplace. The first is that remote work is likely to continue, although perhaps less broadly. Not only have workers become accustomed to Zoom, but e-commerce has also grown exponentially during the pandemic, a trend that is likely to continue. For workplaces that have a higher physical proximity, it's likely that the implementation of automation and AI will accelerate. Last, lower-wage jobs, which have been fairly stagnant in growth already, will likely suffer more losses, while higher-wage jobs are likely to grow, increasing an already troubling disparity gap in the workforce among all sectors of the economy.
As we head into a post-Covid future, the tools for supporting the post-Covid workforce to meet the needs of employees and enable them to work wherever and however they work will continue to be more important than ever. From converting "In-person" or on-site training to redesigned remote options, to offering training for remote leaders or managers to better support their teams during transitions, to developing and curating digital training that can be easily accessed and consumed by learners, trainers and learning and development professionals must adapt to their unique situations and enable their workforce with the tools they need to thrive, whether it's on the manufacturing floor or in a home office.
Want to learn more about how we can support your team? Contact us for customized training tailored to your unique challenges and audience.
Like this? Please share.