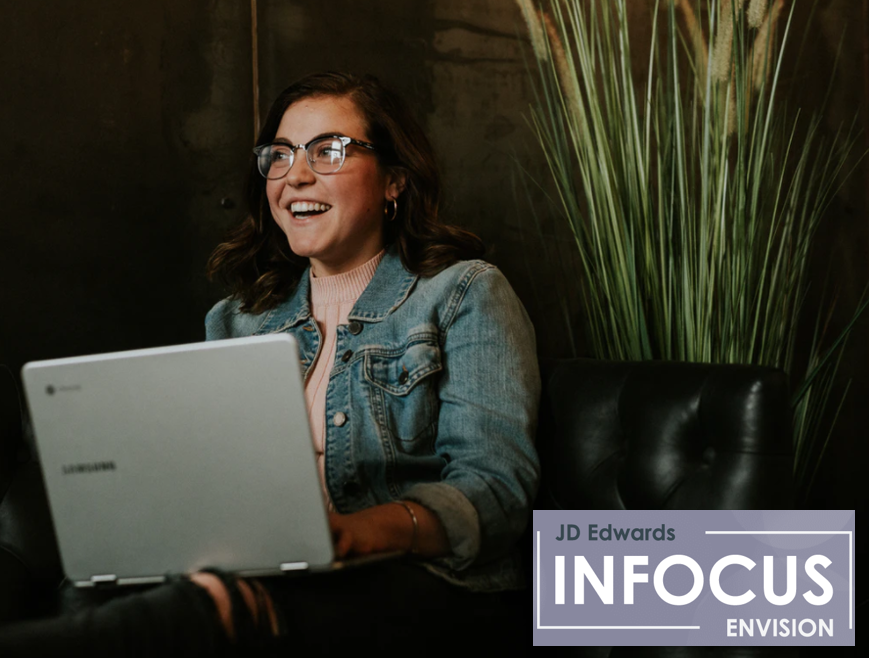 JD Edwards INFOCUS Envision 2021 begins soon on April 12th! This year INFOCUS is all digital, offering JD Edwards learning, product announcements, innovations, Cloud options, new user experiences and JDE value optimizations. We are excited to be exhibiting and participating in this event! Where can you find iLearnERP at the conference?
Learn to Create Job Role Specific UX One Pages and Cafe 1 Layouts – April 13th from 11:00 AM – 12:00 PM MST
Join us to learn to break down specific job roles and tactically lay out the core elements of creating practical UX One Pages and Cafe 1 layouts. We will build both Pages and Layouts from scratch as well as modify prebuilt content. We will discuss the planning, research, and development of these tools.
JD Edwards Day One – A College-Level Introduction to ERP – April 14th from 1:15 PM – 2:15 PM MST
In today's digital business environment, success depends on people that can support rapidly changing markets and regulations. Looking for new JDE talent to build your team? Come discover how college students can now be better prepared to add value as new hires. "J.D. Edwards Day One" was developed by together with the CFO of a "JDE" customer, and a professor at the Graduate School of Management of Kansas State University to provide students with hands-on introduction to ERP using Oracle's EnterpriseOne as the example software. We will be the panel, perhaps with some additional guests. This talk will show you the type of pre-recorded, on-line course materials and approach for this 15 lesson class that covers an intro to ERP, UX-One, and follows a sample company through GL/JC, Procurement/AP, Inventory, Sales/AR, and back to reporting and an intro to Digital Transformation.
How Training Can Smooth the Path to 9.2 – April 14th from 3:00 PM – 3:30 PM MST
Join us for this session to learn about how Brown & Root has recently upgraded JD Edwards to 9.2 from an older version of JD Edwards. With the extensive changes to the user interface, numerous additional features and increased functionality, Brown & Root is looking to enhance their knowledge of version 9.2. In conjunction with this, Brown & Root is looking to enhance their JD Edwards training options across the organization.
The People Part of a World to EOne Upgrade – April 14th from 4:15 PM – 5:15 PM MST
Come learn about how established JD Edwards customer, Oshkosh Defense, recently upgraded to EnterpriseOne 9.2. Change, Communication & Training were critical elements of supporting this long standing EOne community as they adopted the new system, processes, shed outdated spreadsheets, and optimized the new tools. A comprehensive change program, multi-channel communications network, and training through SME led workshops, eLearning and documentation made an integrated and choreographed move to the new platform. This upgrade also provided an opportunity to move away from Oracle's User Productivity Kit (UPK) and simultaneously implement a new employee performance support tool to more effectively assist the people and the processes that make new and upgraded systems a success.
Understanding What Oracle UPK Still Offers Your Organization – April 15th from 9:00 AM – 9:30 AM MST
As organizations increasingly adopt new technologies and applications, proven performance support tools are essential to meet employees at their moment of need to ensure successful adoption. Join us to learn how Oracle's User Productivity Kit (UPK) is an instrumental tool, whether you are implementing new applications, upgrading to a new release, want to better document your processes, capture organizational knowledge, or simply ensure the success of your technology investment in JDE.
Integrating the Process Recorder into Your User's Daily Experience – April 15th from 12:15 PM – 12:45 PM MST
In this Breakout Session we'll discusses the use of the Process Recorder by non-technical users in capturing processes for further automation of your business. We will demonstrate the steps of the process recorder as the basis of an orchestration and discuss the priority this tool should hold in moving automation forward with the use of Orchestration Development. We will also share ways to engage with business, teach and rollout the process recorder and bridge the IT to business gap.
Stay tuned for more information on our Virtual Exhibit and our give aways! Not registered yet? Click here.
Like this? Please share.