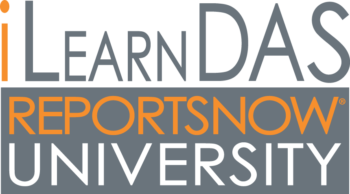 We've added a new DAS8 Practice Exercises Learning Path for our DAS University subscribers! The new DAS8 Practice Exercises Learning Path contains a Practice Exercises Introduction and three courses, DAS8 Finance, DAS8 HR/Paryoll and DAS8 Operations. The courses each have videos that coincide with the practice exercises that can be found in the Additional References of each course. If you are a subscriber, be sure to check out this new opportunity in DAS training to take advantage of our new guided practice opportunities! Users can navigate to this Learning Path simply by clicking the Content Library tab, selecting the Resources option under the Topics filter and choosing from the top of the displayed options. You can also simply search "exercises" in the Search bar in the Content Library.
Haven't heard of ReportsNow Data Access Studio? This JD Edwards tool replaces complex reporting processes with a simple method of creating beautiful, real time reports. ReportsNow helps companies answer tough business questions with unprecedented speed and agility, while alleviating the dependency on IT resources. We're a proud partner of ReportsNow and are always working to bring the latest training content and resources for our subscribers. Click here to read a case study on how we support Colas USA's use of ReportsNow DAS.
Subscribers to DAS University have access to:
Over 150 tutorials that show the features and functionality of DAS7 and DAS8
Recordings to previously conducted deep dive webinars
Materials including QRCs, Cheat Sheets, Classroom manuals, ReportsNow documentation, hands-on practice exercises and Solution ideas
Knowledge checks for every DAS8 course
A personal learning advisor for training support and guidance
10 hours of live webinar training each month
Unlimited training support through Ask-a-Trainer at [email protected]
In addition to our DAS University, we also offer live virtual training and on-site classroom training. We will customize a curriculum for audiences of all sizes to the level of expertise, objectives and application areas of the learners in each session. Virtual and onsite workshops can easily be supplemented with our video and eLearning solution using our on-line resources.  Each course is taught using real life application scenarios and then replicating the steps with exercises that students do with their own data. Optional lab days may be added where students can apply the skills and concepts they just learned to build and publish real business reports needed by their organization. Our live virtual and on-site training based curriculum includes supplemental materials such as student guides, exercises (for practice both during and outside of class), cheat sheets, and quizzes.
Interested in a subscription? Contact us!
Like this? Please share.