Our world is changing faster than ever before. This is most apparent in technology and its impact on our lives. As JD Edwards trainers, we are utilizing this new technology to vastly improve how we train, what we train and the methodology behind adult learning theory in general.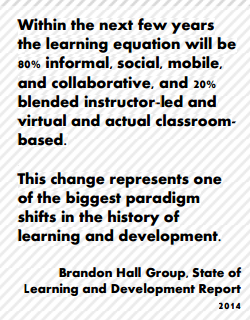 Such advances in technology are leading the way for new and improved learning methods. 'Blended learning' is a relatively new concept that blends synchronous and asynchronous learning methods. Some of these include massive open online courses (MOOCs), virtual instructor led training (VILT), electric performance support systems (EPSS) and screen capture video software such as Camtasia.
These new and improved methods are increasing log-term knowledge transfer. I see it every day with our clients. Those who are most successful with their IT project, both JDE and others, are embracing these changes and adapting a blended learning methodology so each person in their organization receives the learning methods or methods that best suits their learning style(s).
Below is a PDF that explains some of these methods in more detail that iLearnERP President and founder, Elizabeth Schriefer, presented to the Quest JDE Training special interest group (SIG). Also presenting his approach to blended learning was Andy Klee of JDE Tips. Their combined and complete video presentation is below as well. This presentation was so helpful to so many customers that they asked us to present it again at the So Cal User Group (SCUG) meeting Sept. 24th.
https://vimeo.com/questinternational/review/129248733/10eecac23a
Happy learning!
Like this? Please share.