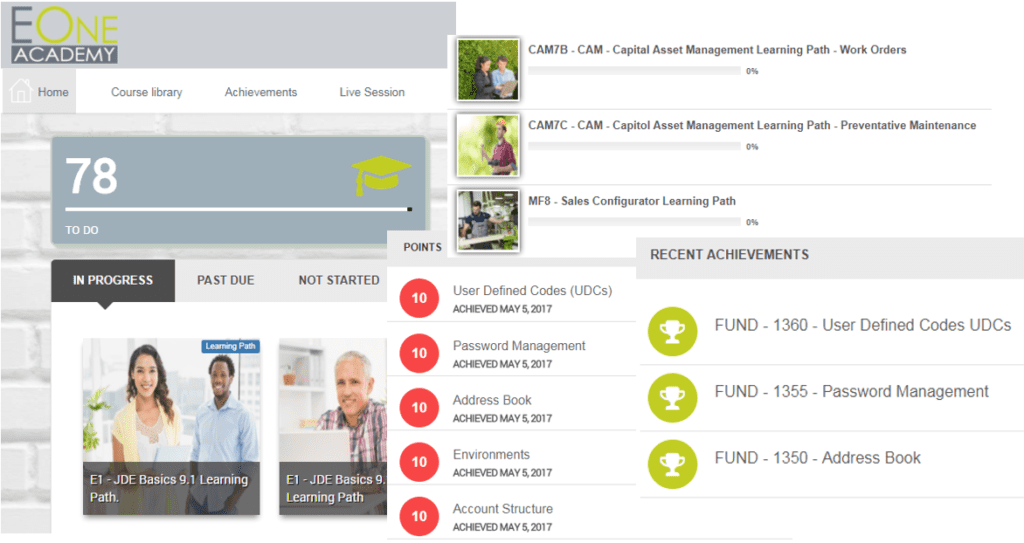 Heading to the JD Edwards InFocus Deep-Dive Event next week? Visit us at Booth 620 and check out the new and improved EOne Academy™!  Now with more features and functionality, the EOne Academy™ will get your new hires up to speed with JDE even faster. Curious about the new 9.2 features and UI? The EOne Academy™ can show you how these features can add value to your business processes and overall ROI.
What our customers say about the EOne Academy™:
"This solution has saved us tens of thousands of dollars over our previous training methods. We have everything we need in house at our fingertips. No need to waste people's time traveling to classes that don't really work. My core team is ready for go-live thanks to the EOne Academy."
– Jeff Bruce, ERP Apps Manager, Skanska
"The EOne Academy has been invaluable to us during our migration to EOne. It's allowed us to grow by decreasing training costs associated with a big merger or IT project. We love iLearn so much, we're engaging them for our end user training as well."
– Joe Dabat, Director of IT, Land O' Lakes
"iLearnERP has been instrumental in the development of all of our training materials and curriculums. We are excited to incorporate the EOne Academy into our development scheme for all of our JDE ERP resources. The Academy will further solidify our relationship with iLearnERP."
-Will Cockley, Director of IT, Silgan Containers
We look forward to seeing you at the JD Edwards InFocus event!
Like this? Please share.