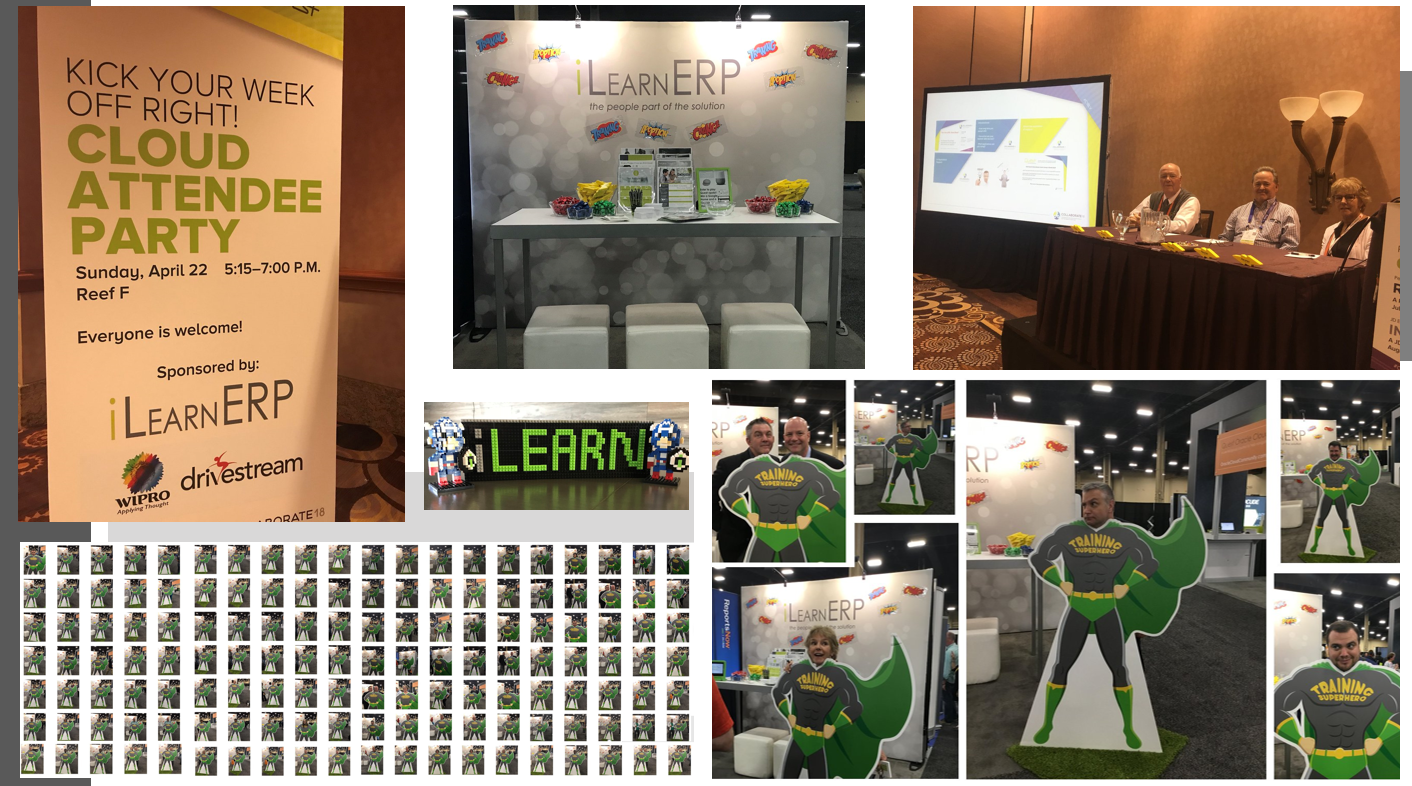 We had a fabulous time at Collaborate 2018! From meeting new people at our booth, to attending and hosting sessions, to mingling at parties, it was a great year! On Sunday we had the pleasure of hosting a Cloud Attendee party at the Mandalay Bay! We had a wonderful time talking Cloud! We always love hosting a booth at Collaborate, and this year we met over 150 training superheroes! We also had three sessions at Collaborate and are excited to host free follow-up webinars to each of these sessions during the week of May 8th – 10th:
You Use UPK: Now What??? – Join us for this webinar on our round table session from Collaborate 2018 on practical strategies for tackling the expiration of UPK and how this expiration impacts your organization. We'll be looking at the pro's and con's of uplifting your application training strategy with various solutions, reviewing Oracle short-listed options, and sharing strategies for making the organizational move to a supported product. Register here for this session on May 8th from 1:00 – 2:00 PM MST.
Cloud Adoption: Build a Sustainable Model – Join us for this session on our presentation from Collaborate 2018 on organizational adoption of the Cloud. We'll cover the build of a successful, sustainable user adoption model for Cloud applications. We will also discuss the complex criteria associated with building a user adoption model and address the unique user experience opportunities associated with Cloud solutions. We'll also review unique Cloud adoption needs including scale, mobility and continual change. Register here for this session on May 9th from 1:00 – 2:00 PM MST.
How Silgan Built an Effective Application Learning Culture: Join us for this webinar on our session from Collaborate 2018 to learn how Silgan Containers successfully upgraded multiple divisions, brought on several acquired divisions, and folded in additional applications through a consistent learning and tool approach. Using UPK and web-based learning, Silgan created an easily accessible, sustainable format for deploying eLearning and documentation across 75 locations, 8 countries and thousands of users. We'll discuss the benefits of uplifting training content, leveraging support solutions, change agents, mentors, trainers, project buddies and a blended learning approach. Come see how learning thrives at Silgan! Register here for this session on May 10th from 1:00 – 2:00 PM MST.
See you next year in San Antonio!!
Like this? Please share.