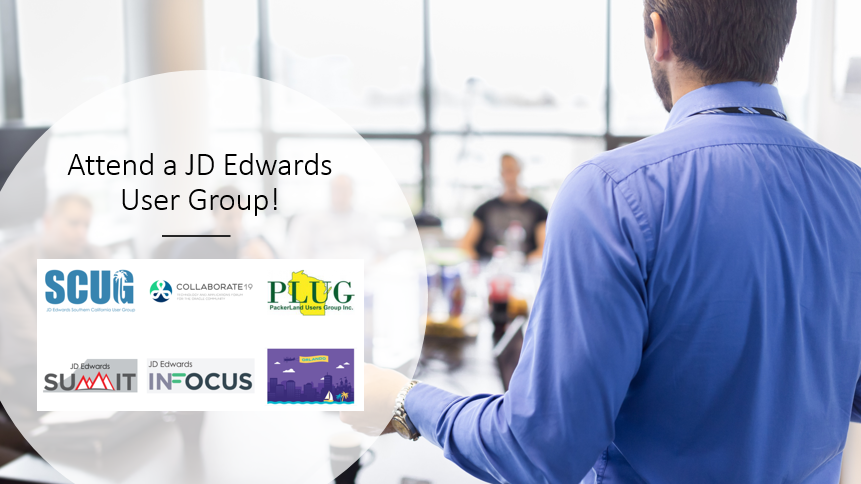 We are steadily approaching Collaborate 2019, the biggest JD Edwards event of the year, and to mark our upcoming presence there we thought we would share some other great regional opportunities. These events are happening all around the country, so there is sure to be a fit for your location! They offer amazing educational opportunities to gather resources and stay up-to-date on the latest releases, network with your peers and vendors, and are often free for JDE customers (or have a modest fee). So, where are we headed and where do we hope to see you?
Northern California RUG 2019 Kickoff – This meeting of the NorCal region is in Livermore, California at Wente Vineyards on January 16th. Users of JDE will gather to share ideas, hear from Oracle, and enjoy some great wine!
PackerLand User Group Meeting – The PLUG Q1 2019 meeting is in Fond du Lac, Wisconsin on January 17th. All attendees will enjoy a day of education, networking and a free 20 oz YETI Tumbler.
Southeast RUG Meeting – The next Southeast Regional User Groups meeting is in Orlando, Florida on February 7th and is for all JDE and PeopleSoft customers.
Southern California User Group Meeting – SCUG's Q1 2019 meeting is on March 13th, in Long Beach, California. Be sure to save the date for this great event!
Collaborate 2019 – You can visit us at this year's Collaborate in San Antonio, Texas from April 7th – April 11th. We will be giving several presentations and you can also find us at Booth #345.
JD Edwards Infocus 2019 – In our home town of Denver, Colorado, JD Edwards Infocus will be held at the Sheraton in Downtown Denver, from August 20th – 22nd.
JD Edwards Summit 2019 – Also in our home town of Denver, Colorado, this event immediately follows Infocus and is held at the Sheraton in Downtown Denver, from August 22nd – 24th.
Like this? Please share.