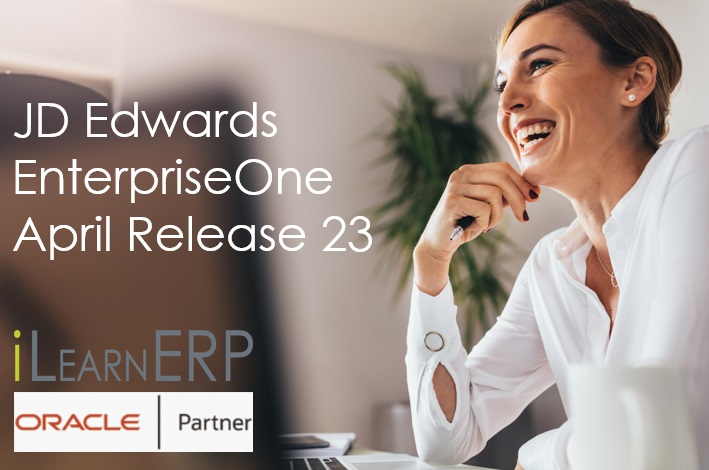 The April Release 23 is here! This release comes just prior to the Blueprint 4D conference from May 8th – 11th, in Dallas, Texas where users can learn more. Oracle announced JD Edwards Release 23, saying:  "Release 23 is a Digital ERP release delivering innovation that automates, optimizes, and transforms business processes and represents Oracle's continued investment that furthers your digital transformation. Release 23 includes innovation for both applications and tools."
LearnJDE also breaks down the improvements with Release 23 by applications. You can view them here. Depending on your area of specialty and what opportunities your industry currently faces, these vertical-specific improvements may be significant and are worth a look. You also may want to check out the tutorials on LearnJDE for ERP Modernization and Digital Platform. Click here to get started. There are new tutorials for optimizing your Maintenance Work Order display and Voucher Approval workflow. There are also tutorials on the File Selector for Orchestrations launched from a Form Extension, importing and exporting grid data to SharePoint, there are three new tutorials on Form Control Extensions and two new tutorials on Logic Extensions.
Also recently announced is OGL, or Oracle Guided Learning: "Oracle Guided Learning is an Enterprise cloud platform that supports the creation of personalized guided, and contextual user onboarding visualizations that empowers JD Edwards users to be self-sufficient while navigating business processes." This new platform is included with every Fusion Cloud Application. Oracle Guided Learning also integrates with JD Edwards EnterpriseOne and supports the creation of contextual learning with step-by-step guidance in the flow of work. You can learn more OGL here.
We hope you will be at the next Blueprint 4D with us in Dallas to learn more about Release 23 and for insights, innovation and community. Click here to check out all the places you can find us at the show, from parties, presentations and workshops to at our booth!
Like this? Please share.