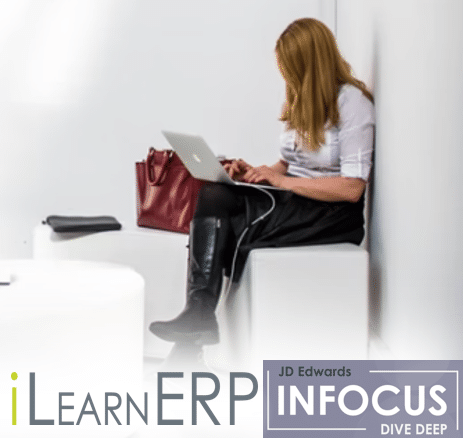 It's the first day of JD Edwards INFOCUS Dive Deep 2021, and we're excited to share with you all the places you can find us during the show!
First up today is our UX One 9.2.5 Infusion Workshop from 11:30 AM – 2:30 PM. This workshop provides a great chance to walk through the use of User Defined Objects/UX One Tools. We will explore and distribute information about each one with the approach of "What is this tool" and then "This is what you need to know to use it effectively". We will also explore best practices of using the tools including the security necessary to keep your environment safe and available to your citizen developer users. If you are moving from World or an older release of E1, this workshop will help you get your hands on the tools and learn to utilize them with confidence. We hope you can join us!
We also hope to see you at the following sessions!
Into the Deep End with UX One – October 19th from 7:15 – 8:15 AM MST
Join Todd Nelson from iLearnERP to go beyond simple User Defined Object usage and Dive Deep into the world of Composed Pages, Cafe 1 Layout and UX One Role Pages. This session will explore the various complexities of building Composed Pages and Cafe 1 Layouts that go beyond the usual and give deep practical application of combining UDOs and their subtleties.
Creating a Blended Learning Strategy for ERP Implementations – October 19th from 2:15 – 2:45 PM MST
Join Kim Hartwig from iLearnERP to explore how to support users to adapt to net changes when converting to an integrated ERP system through blended learning consisting of simulated online training, instructor-led training, quick reference print materials and example exercises.
Personalization – 5 Must Have Personalizations for 9.2 Users – October 20th from 6:30 – 7:30 AM MST
Join Todd Nelson from iLearnERP to learn the 5 personalizations that no user should be without when moving into 9.2 and fully getting the most out of your UDOs. In a busy workplace environment users want to know quickly what works and has the most bang for the buck. These 5 personalization ideas will guarantee to add value to your user experience.
Training in the Post-Pandemic Future of Work – October 20th from 11:45 AM – 12:15 PM MST
Join April Favara from iLearnERP to explore the ways the Covid-19 pandemic has continued to impact all business sectors and re-define the workplace well into 2021. From schools to entire corporate headquarters, industries that could go remote took on a whole new way to support their businesses. As the pandemic wore on, organizations increasingly adjusted to and supported their workforce with better tools and technologies. As we head into a post-Covid future, the tools for supporting the post-Covid workforce to meet the needs of employees and enable them to work wherever and however they work will continue to be more important than ever. This presentation will examine how trainers and learning and development professionals must adapt to their unique situations and enable their workforce with the tools they need to thrive, whether it's on the manufacturing floor or in a home office.
Extreme Personalization for the Fully Integrated User – October 20th from 1:00 – 2:00 PM MST
Join Todd Nelson from iLearnERP to learn the full extent of what you are able to use to personalize any JD Edwards application. He will show you how to use every feature in as many combinations as possible so that your users can take advantage of these tools.
In addition to our sessions, you can join us for exhibit hours at our booth for a chance to win an Apple AirTag 4-Pack! We will also be providing the following demos and sessions in our booth:
UX One Q & A – October 19th from 11:30 – 11:45 AM MST
In this live session we answer your questions about using UX One. This includes the UX One Role Based Pages and updating the information displayed on the pages.
The EOne Academy – October 19th from 12:00 – 12:15 PM MST
In this live session we will demonstrate our eLearning platform with 900+ courses for JD Edwards. This innovative training solution is perfect for someone new to JDE, experienced Business Analysts and consultants.
Training Post-Covid – October 19th from 3:30 – 3:45 PM MST
In this live session we will discuss how the pandemic has continued to disrupt the workplace, and the training tools that best support the post-Covid workforce.
The End User Academy – October 19th from 4:30 – 4:45 PM MST
You've heard of our EOne Academy, did you know we have one for end users? In this live session we will share our online end user solution that can be customized for your organization.
UPK and What You Can Replace it With – October 20th from 11:00 – 11:15 AM MST
Join us to learn the current state of UPK and how we can help you assess UPK-like tools and reach your learners in application.
Online Training Tips and Tricks – October 20th from 2:15 -2:30 PM MST
Going virtual? Come learn about how to make your online presentations and training sessions engaging and interactive.
Best Practices UX One UDOs Q & A – October 20th from 2:45 – 3:00 PM MST
In this Q&A we are open to questions regarding the UDOs that make up UX One type pages including, the Page Composer, Charts, Watchlist Panes, Springboard Panes and Designer Panes.
Got ReportsNow? – October 21st from 11:30 -11:45 PM MST
Come see our eLearning platform for ReportsNow DAS. This eLearning solution solves the challenge of keeping designers up to speed, training new team members, and getting the maximum value out of the software.
Customized Learning Management Solutions – October 21st from 12:00 – 12:15 PM MST
Learn how you can reach your users with accessible and engaging content that is customized for your organization, including how our JDE training content can be combined with soft skills or other power user content in one online learning destination.
Like this? Please share.