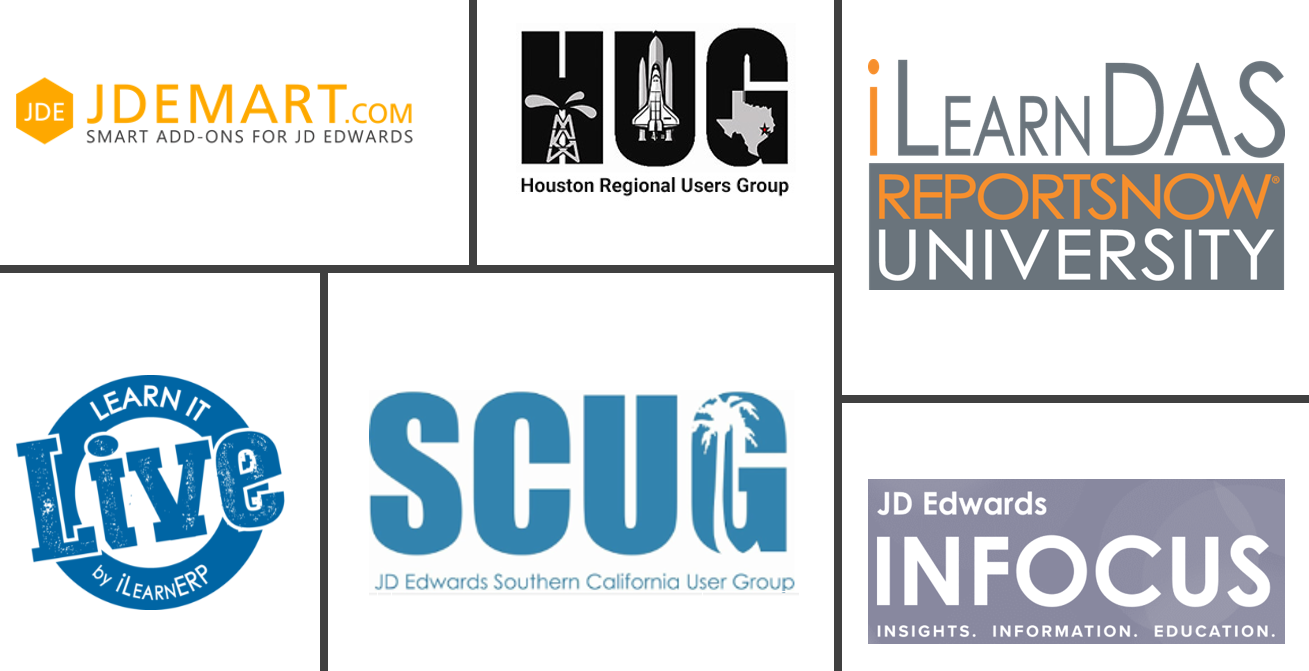 With Fall just around the corner things are really starting to pick up, and that's also true in the JD Edwards community! Some of the events below are hosted by us, some of them are regional user groups that meet quarterly and some of them are larger yearly events. Check out the event descriptions and links below for more information. We hope you can sign up and we hope to see you!
Train All Your JDE Users Online, Affordably and in One Place – Join us for this free webinar to explore how you can provide affordable, proven, at point-of-need JD Edwards training solutions for all the learners in your community. This webinar is on Thursday, August 17th at 11:00 AM MST and you can register here.
EOne Academy Learn it Live: Orchestrations in Action – If you are an EOne Academy subscriber we hope you can join us for the last in our Orchestrator Series of webinars on Thursday, August 24th from 1:00 – 2:00 PM MST. In this session we will look at some of the Orchestrations that have made the Orchestrator such an amazing tool. We will also show the components used and how these Orchestrations run in the real world. Interested in a subscription? Contact us here.
ReportsNow DAS University Webinars – Every month we offer 10 hours of live webinar training for our DAS University subscribers! If you already have a subscription, register for the webinars by logging into DAS University and clicking the Live Sessions menu. Interested in a subscription? Contact us here.
SCUG Q3 Networking Event – Join the Southern California User Group and iLearnERP September 7th, for the SCUG Q3 networking event! This event will be in Orange County, California and we will be presenting, Find out how to manage Data Compliance for personal data in JD Edwards. Take part in the SCUG membership drive to win part of $1,500 in incentives. Check it all out here.
HUG 3rd Quarterly Meeting – We hope to see you at the next Houston Regional Users Group meeting on September 13th, at Maggiano's at 2019 Post Oak Blvd in Houston, Texas. This event includes great food, exhibitor prizes, education sessions and roundtable discussions. Click here to learn more.
JD Edwards INFOCUS 2023 – Join us for JD Edwards INFOCUS at the Sheraton Downtown Hotel in Denver, Colorado from September 27th-29th! This digital event provides practical, hands-on learning from JD Edwards experts, updates and education. Build your JD Edwards skills and expertise with three jam-packed days of hands-on education. You can find as at Booth #322 during the event.
ERP Training SIG Meeting – Find us in Director's Row H during INFOCUS on Thursday, September 28th, from 8:00 – 9:00 AM. We will be presenting, Hot Topics in Training – Digital Adoption, AI, Micro-Learning and More.
Get Started with Orchestration Creation and Configuration – Come to Governor's Square on Thursday, September 28th, during INFOCUS from 9:15 – 10:15 AM MST where we will demonstrate building a basic orchestration and then continue to add components to see the process of configuring and mapping an orchestration from beginning to end. We will include the use of form, data, and connector requests and additional components. This is an introductory session for those beginning to work with the Orchestrator. We will also include a basic orchestrator quick reference card for future build of orchestrations.
Like this? Please share.