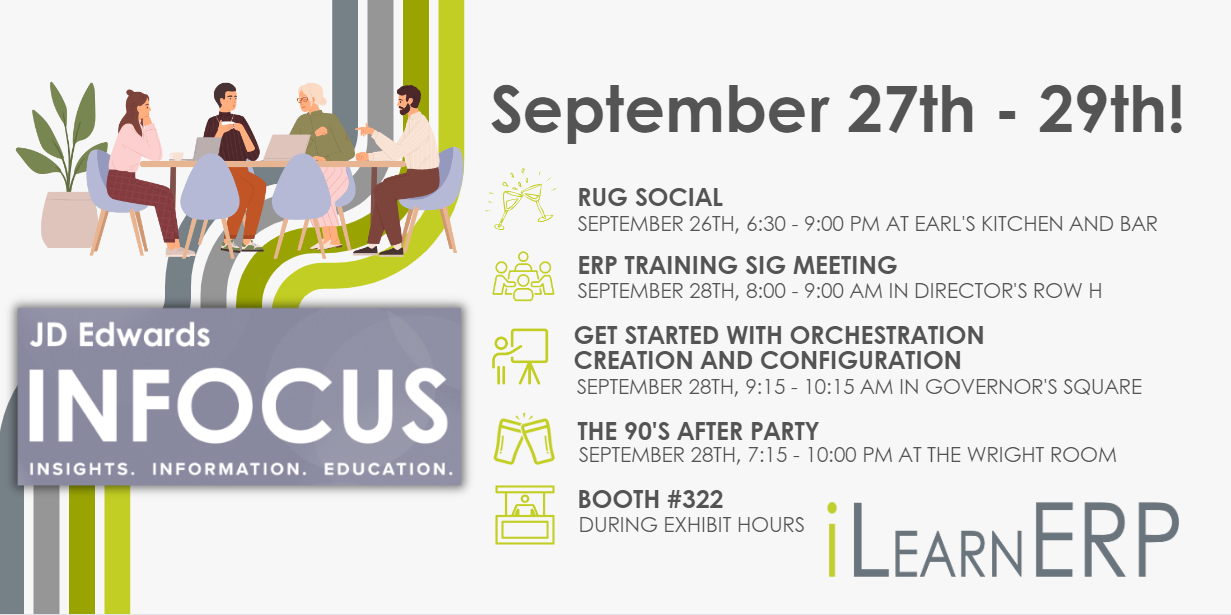 We hope you are joining us in our home town for JD Edwards INFOCUS 2023 at the Sheraton Downtown Hotel in Denver, Colorado from September 27th-29th! This digital event provides practical, hands-on learning for JD Edwards experts, updates and education. We also like to pack in some fun during the week. In addition to at our Booth #322, where can you find iLearnERP at the conference?
RUG Social – September 26th from 6:30 – 9:00 PM at Earl's Kitchen and Bar
The Regional User Groups Social is the kick off event at INFOCUS and you won't want to miss it! We are a proud co-sponsor of this event and are looking forward to getting together with the JDE Community for fun, food and giveaways! To register for this party to ensure your spot, click here.
ERP Training SIG Meeting – September 28th  from 8:00 – 9:00 AM in Director's Row H
Find us at the ERP Training SIG meeting where we will be presenting, Hot Topics in Training – Digital Adoption, AI, Micro-Learning and more. First, we'll take a dive into some methodologies that stood the test of the pandemic, Agile, Design Thinking and Minimal Viable Product (MVP). Then, we'll look at the continued importance of inclusion in onboarding and beyond. Next, we'll discuss the use of Digital Adoption Platforms to transform your business. We'll also of course be talking about the implications for ChatGPT on training, and emerging technologies such as AI avatar generators for videos and AI training content generators. Last, we will discuss how to apply the ADKAR model to tackle change and AI.
Get Started with Orchestration Creation and Configuration – September 28th from 9:15 – 10:15 AM in Governor's Square
Come to Governor's Square where we will demonstrate building a basic orchestration and then continue to add components to see the process of configuring and mapping an orchestration from beginning to end. We will include the use of form, data, and connector requests and additional components. This is an introductory session for those beginning to work with the Orchestrator. We will also include a basic orchestrator quick reference card for future build of orchestrations.
The 90's After Party – September 28th from 7:15 – 10:00 PM at the Wright Room
Join us at the Wright Room, just two blocks from the conference venue on the 16th Street Mall, for a delectable spread from our in-house chefs and delicious drinks from the bar. We'll be playing some throwback tunes to the 90s so come to connect with your fellow JD Edwards enthusiasts to share insights, swap stories, explore potential collaborations, unwind and relax! To register for this party to ensure your spot, click here.
Like this? Please share.