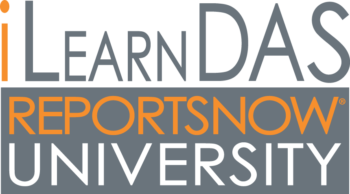 We love adding new content to our universities so we are excited to announce the addition of a new ProReports course in DAS University! This latest ReportsNow DAS8 course begins with an introduction to the ProReports interface and progresses learners from a basic to intermediate understanding of ProReports. The course concludes with instruction on not only how to build documents with ProReports, but how to also improve the look and feel of documents created with ProReports. Every month we also offer 10 hours of included live webinar training and this month our ReportsNow deep dive webinar will also feature a closer look at ProReports functionality, where learners will also have the chance to interact with a live trainer and get answers to any questions on the spot.
Haven't heard of ReportsNow Data Access Studio? This JD Edwards tool replaces complex reporting processes with a simple method of creating beautiful, real time reports. ReportsNow helps companies answer tough business questions with unprecedented speed and agility, while alleviating the dependency on IT resources. We're a proud partner of ReportsNow and are always working to bring the latest training content and resources for our subscribers. Click here to read a case study on how we support Colas USA's use of ReportsNow DAS.
In addition to our DAS University, we also offer live virtual training and on-site classroom training. We will customize a curriculum for audiences of all sizes to the level of expertise, objectives and application areas of the learners in each session. Virtual and onsite workshops can easily be supplemented with our video and eLearning solution using our on-line resources.  Each course is taught using real life application scenarios and then replicating the steps with exercises that students do with their own data. Optional lab days may be added where students can apply the skills and concepts they just learned to build and publish real business reports needed by their organization. Our live virtual and on-site training based curriculum includes supplemental materials such as student guides, exercises (for practice both during and outside of class), cheat sheets, and quizzes.
Interested in a subscription or in live training for your team? Contact us here.
Like this? Please share.