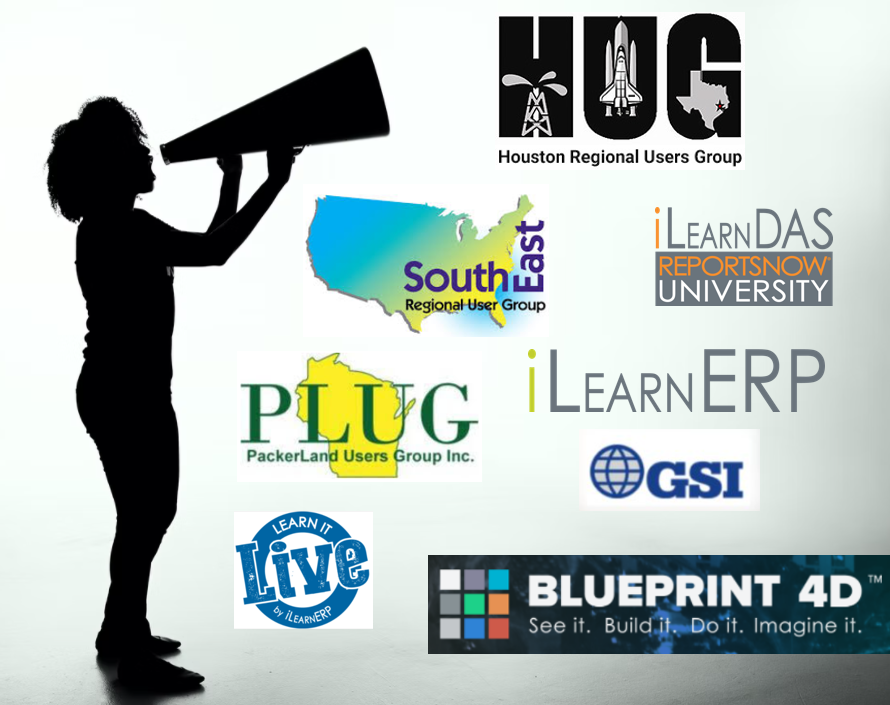 We love being an active member of our JD Edwards community, and this quarter there are some great events! We thought we'd share the information for these events as Q1 finishes up and we roll into Q2!
ReportsNow DAS University Webinars – Every month we offer 10 hours of live webinar training for our DAS University subscribers! This month, our live sessions are during the week of March 14th -17th. If you already have a subscription, register for the webinars by logging into DAS University and clicking the Live Sessions menu. Interested in a subscription? Contact us here.
JD Edwards Release 22 Upgrade Virtual Hands-On Workshop – Join us at the JD Edwards Upgrade Virtual Workshop for Release 22 on Tuesday, March 22nd with iLearnERP and GSI. This is a hands-on workshop where we will showcase all the new features in the latest release. The workshop will include demonstrations and hands-on lab exercises.
This new release has many enhancements in both the JD Edwards tools and applications layers. Some of the top features covered will include:
• Planning Console
• Resource Scheduler
• Workflow Modeler "On the Glass"
• Form Extension Improvements
• Logic Extensions
• Zero Downtime Package Deployment
• Functional Enhancements
• Simplified Administration
Get familiar and hands-on with these and many more JD Edwards Release 22 enhancements.
Come join us and experience 22 in 22.
As a thank you for attending the workshop you will receive a $25 Amazon gift card.
We will be in touch with you to confirm attendance.
Click here to register.
Learn it Live: Learning UX One Tools – Advanced Page Composing – In this session on Thursday, March 24th from 1:00 – 2:00 PM MST, we will be teaching advanced concepts using the Page Composer. The UX One toolbox contains many useful tools and at the center is the Page Composer. We will look at the preparation needed for using the other UX One tools, such as personal forms, form extensions, queries and grid personalization in making functional dynamic pages. These require planning and knowledge of each tool to bring composed pages into full functionality. This session is available to our subscribers. Please contact us here for more information.
Houston Regional User Group April Meeting – Join us at the Houston Users Group meeting at Maggiano's Little Italy at 2019 Post Oak Blvd., Houston, Texas on April 6th. We will be presenting with DWS – Granite Construction Achieves Continuous Improvement with Automation. We hope to see you there! Register here.
Southeast RUG April 2022 Meeting – Join us at the Southeast Regional Users Group meeting on April 14th, at the Top Golf in Mid-Town Atlanta! We'll be co-presenting a Release 22 upgrade workshop with GSI. Click here to register.
Packerland User Group April Meeting –The PLUG board invites you to join the April 28th, 2022 meeting! Save the date for this great event. More information coming soon!
BLUEPRINT 4D – Join us at the global Oracle customer event of the year in Las Vegas, Nevada and online June 6th – 9th, 2022! If you have never attended this event before, contact us for a discounted registration opportunity!
Like this? Please share.