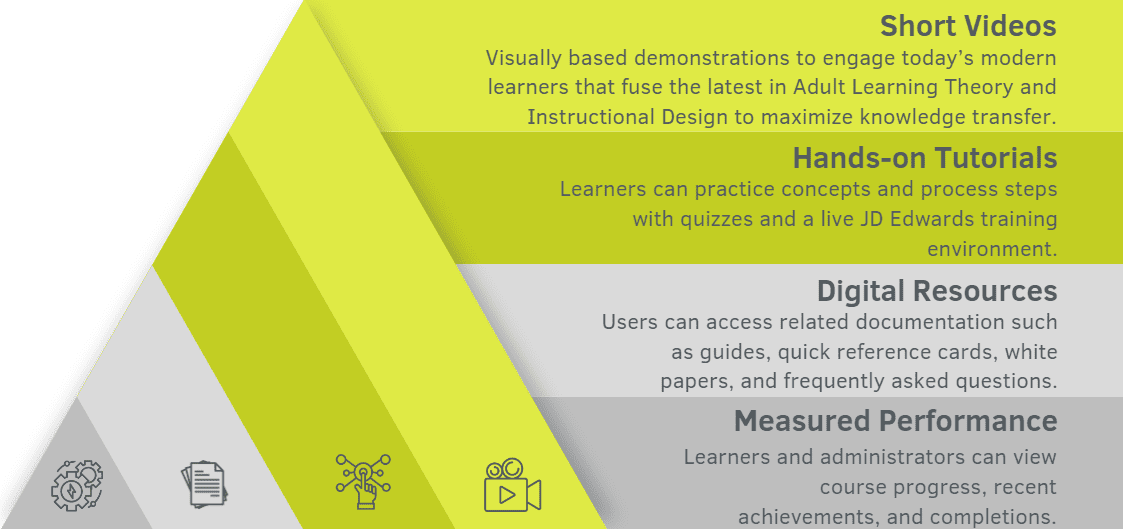 We've designed the EOne Academy™ with the learner in mind. We customize the learning experience by helping you identify your learning objectives, the scope of training you need, types of content and courses, and we'll help make sure it fits within your time-line. Once we analyze your learning needs, we can create customized learning paths, help track your progress, make sure you have the reporting you want, and we will make it fun with gamification and leaderboards. We provide resources in various formats to help you get started with your training and with access to a real learning advisor who is available 24/7. Our practice environment, get started webinars and monthly live webinar sessions are also available for subscribers, and we will keep you in the know on the latest updates of our content and resources with news and announcements.
With over 30 modules and 900+ courses, the EOne Academy is perfect for when users are starting a new role, cross-training, studying for an Oracle Certification exam, or are a super user or consultant improving JDE skills. The EOne Academy also includes the Orchestrator Studio Learning Path, which provides a full curriculum on Orchestrator Studio. Don't miss out on this training to get the most out of JDE!
Click here for more information.
Like this? Please share.