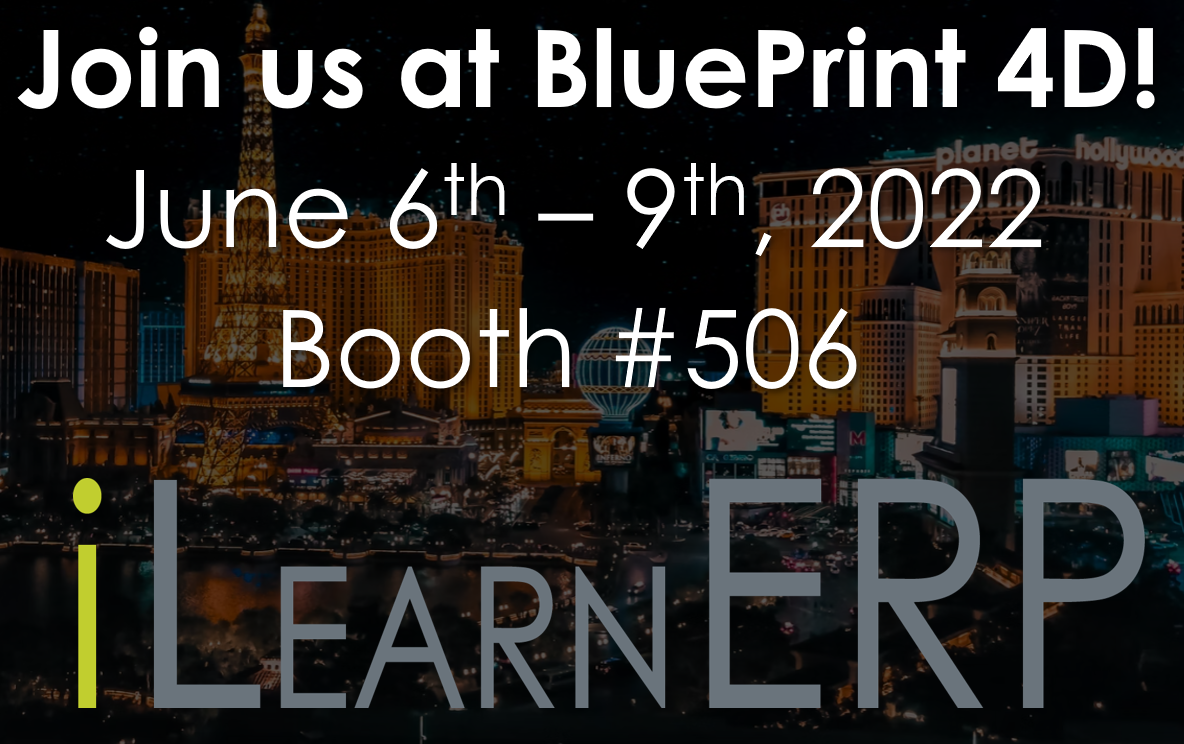 BluePrint 4D begins June 6th, 2022! This year BluePrint 4D is a hybrid event and keeps you in the loop and up to date on the latest technology insights and product advancements for JD Edwards, PeopleSoft, Oracle Cloud apps, Oracle Database & Technology and Oracle Commerce. We'll be at the live conference in Las Vegas, Nevada. In addition to at our Booth #506, where can you find iLearnERP at the conference?
RUG Social at BluePrint 4D – June 5th from 6:30 PM – 9:00 PM PDT
We are a proud sponsor of the BluePrint 4D RUG Social! This event is at TAP Sports Bar in Las Vegas is open to all RUG members. The last time we had this event in-person was at Infocus 2019 and we had ~100 customers show up. We think we can beat that this time! This social is open to all Oracle customers – whether you are a RUG member or not. Come and see which RUG is in your area, who your fellow RUG members are and how you can get connected. We will have food, drink, raffle prizes and the ability to network with your fellow RUG members and those around the country to prepare for your week. Register here.
Workshop: UX One for Better Efficiency – June 6th from 9:00 AM – 12:00 PM PDT
Join us for the UX One Workshop of the year! This in-person session at BLUEPRINT 4D is in Room 104 (Session ID 109740). This workshop is an introduction to using UX One Tools and the most recent tools release features into everyday work applications with EnterpriseOne. We will teach the basics of simple UDOs and work towards building Cafe 1 layouts and composed pages.
Learning Objective 1: Introduce the concepts of UX One and User Defined Objects
Learning Objective 2: Give step by step instruction on how to use the tools
Learning Objective 3: Re-enforce using these tools with exercises and instructor training
ERP Training SIG Meeting – June 6th from 1:45 PM – 2:45 PM PDT
Join us at the ERP Training SIG session at BLUEPRINT 4D on June 7th in Room 203 (Session ID 106600). This SIG is open to all Quest ERP Users – JDE, PeopleSoft, and EBS. Also invited are UPK users and users of other online training tool development software.
Pierce Manufacturing Roars to 9.2 – Teamwork Makes the Dream Work – June 7th from 2:00 PM – 3:00 PM PDT
Join us for the session, Pierce Manufacturing Roars to 9.2 – Teamwork Makes the Dream Work at BLUEPRINT 4D  in Room 210 (Session 107450). Pierce Manufacturing, a leading US manufacturer of fire and emergency equipment, recently accelerated to EnterpriseOne 9.2 by using an integrated team, a new learning model, and the power of E1 9.2 features. Pierce's upgrade comes after over 20 years on coexistent JDE OneWorld and JDE World. Leveraging the new tools and features made for an exciting roll-out organized with a blended team of external support, core team business members, and expert SMEs. End user success was enabled first by strong business ownership with the right combination of in person training, live web-based learning, training aids, and online options delivered through the TTS Performance Suite. Join us to hear the many wins and the best practices for this upgrade success.
Learning Objective 1: Discuss the many benefits of leveraging the new tools and orchestrator to engage the whole company.
Learning Objective 2: See in-application end user support using TTS Performance Suite.
Learning Objective 3: Learn how to engage your organization leadership, project team, super users, and end users to embrace the organizational objectives and timeline.
Efficient On-boarding of Your JDE Users – June 9th from 9:00 AM – 10:00 AM PDT
Join us for the Efficient On-boarding of Your JDE Users session at BLUEPRINT 4D in Room 203 (Session 102100). Onboarding employees can be cumbersome, expensive, and ineffective. Learn the science behind successful strategies and hear customer stories on how they have streamlined the process.
Learning Objective 1: Discuss the science behind training new users
Learning Objective 2: Become aware of tools in the marketplace that can help with the process.
Learning Objective 3: Learn from other customers on how they replaced inefficient processes and allowed staff to concentrate their efforts elsewhere.
A Key to Global User Adoption of Tupperware's Reporting Tool – June 9th from 10:15 AM – 11:15 AM PDT
Join us for the session,  A Key to Global User Adoption of Tupperware's Reporting Tool at BLUEPRINT 4D in Room 107 (Session 106690). Tupperware has multiple JDE instances around the globe, making reporting in a consistent format using a common tool a challenge. Part of this opportunity is having the right tools, but a larger part is user adoption. This session will discuss the keys to Tupperware's success in achieving a high rate of user adoption for a new, standard reporting tool across the organization.
Learning Objective 1: Review software selection challenges including the need for multiple JDE instances and releases, to use data outside of JDE, and to create templates to be shared across our global markets
Learning Objective 2: Discuss how to gain buy-in from each business unit to leverage a new tool including the benefits of a common tool and output, global shared knowledge globally and lower cost of ownership
Learning Objective 3: Understand how to promote and sustain user adoption through training options for busy users, internal and external support options for implementation and on-going support
Stay tuned for more information from us and on our giveaways! Not registered yet? Click here.
Like this? Please share.