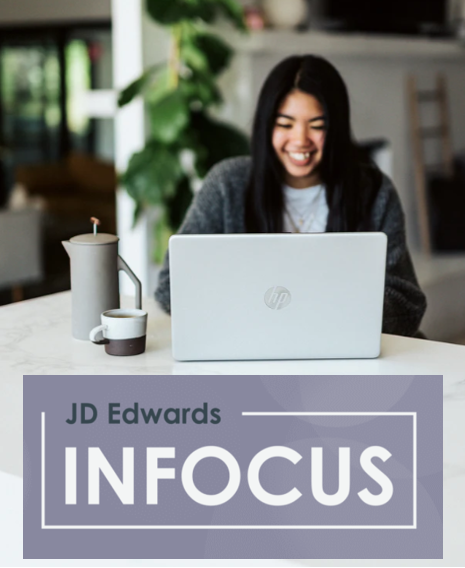 JD Edwards INFOCUS 2020 begins soon on October 19th! This year INFOCUS is all digital, offering JD Edwards learning, chats with experts and opportunities to connect. We are excited to present, attend and exhibit at this event! Where can you find us?
Late to the Party? It's Never Too Late to Begin to Learn and Leverage UX One and the Citizen Developer Tools! – Session 104590
Join us for a hands-on workshop covering all the UX One Tools and UDOs on October 19th from 12:00 – 4:00 PM. We will walk through the UDOs that make up the UX One Role Based Pages and explore each tool individually answering key questions along the way.
Strategic Planning and Implementation of E1 User Tools – Session 102400
Join us for our presentation on October 21st from 3:00 – 4:00 PM, exploring the toolbox of UX One tools. We will outline strategies to begin to introduce these tools in daily use, and provide best practices to implement these tools, from simple UDOs to complex Orchestrations.
JD Edwards Day One – A College-Level Introduction to ERP – Session 102430
Join us for this joint session on October 22nd from 10:15 – 11:15 AM, on how college students can now be better prepared to add value as new hires. "JD Edwards Day One" was developed together with the CFO of a JDE customer and a professor at the Graduate School of Management of Kansas State University to provide students with a hands-on introduction to ERP and Digital Transformation using Oracle's EnterpriseOne as the example software. This session will show the type of pre-recorded, online course materials and approach for a 15 lesson class that covers an intro to ERP, UX One, and follows a sample company through GL/JC, Procurement/AP, Inventory, Sales/AR, and back to reporting.
You've Given Your Users a Race Car, Now Let Them Drive It! UX One End User Super Charged Fast Start – Session 102470
Join us for this session on October 22nd from 12:15 – 1:15 PM, as we discuss the UX One Role based pages and direct the discussion toward end users using this valuable tool for the first time. We will dig into navigating the page, adjusting queries both inside the page and in the application, and also look into the methods of creating queries that mine the exact information desired.
Stay tuned for more information on our Virtual Exhibit and our Questopoly give away!
Like this? Please share.