Onboarding is a key factor to retain top talent, boost productivity and drive business. It happens before the first day on the job and extends well beyond. Between paperwork, employee information collection and integration processes, there's a lot to remember to ensure successful orientation and action readiness. Rather than manage all of that yourself or across different departments, an LMS makes it possible to easily scale and repeat the routine tasks associated with onboarding so you can focus your efforts on other critical areas of your business.
The onboarding process for new employees includes all of the following:
Welcome: Introduce your new employees to your organization and its mission, values and culture. Provide an overview of the onboarding course and each of its key components.
Policies and Forms: Provide information on company policies such as the code of conduct, rest and meal breaks, dress code and attendance. Include any associated forms for new employees to fill out and acknowledge.
Benefits: Walk employees through benefit information and sign up including medical, dental and vision. If your company has unique programs such as wellness or volunteer opportunities, include them here, too.
Subsequent Training: Include other necessary new employee training such as sexual harassment or safety courses. Guide employees through role specific training to get them ready for the job.
The following chart demonstrates key elements and capabilities of an LMS and how they compare and check out against the four onboarding process elements included above.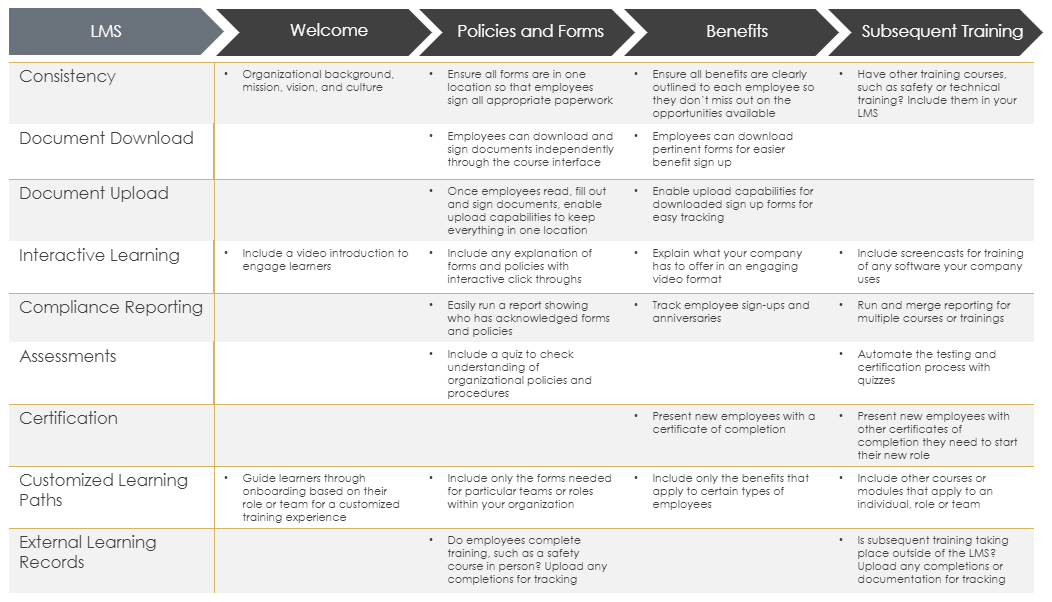 You can also optimize your onboarding process with all that a modern LMS has to offer:
Make training interactive with click throughs, form upload opportunities and knowledge checks.
Automate compliance reporting with easy tracking completion and reporting features.
Customize onboarding courses by role, team or individual.
Add an assessment to demonstrate that new employees have a practical understanding of the training.
Give them a completion certificate, built right into the course.
Have an in-person onboarding component? Add an external learning record.
Want to learn more about how you can spend far less time on onboarding preparation, tasks and ensuring your organization is compliant? Contact us.
Like this? Please share.