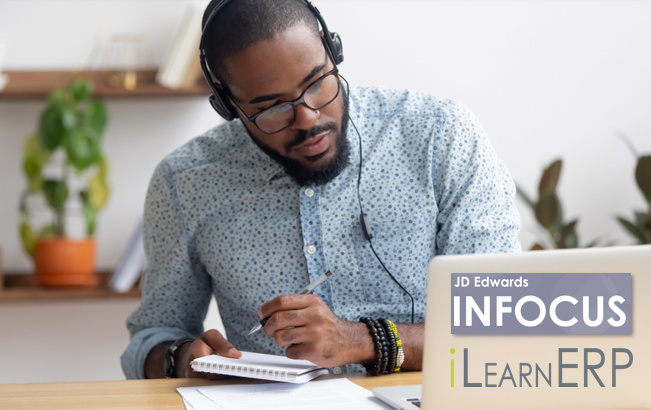 This year's INFOCUS 2022 event was from October 24th – 27th and provided a deep dive into Release 23, Orchestrator, No code/lode, Digital ERP, JD Edwards on OCI, Automation, UX One, Personalization/Extensibility and more! We love being a yearly participant of this event and are excited that next year this event will be held in our hometown of Denver, Colorado!
To recap this event if you missed it or missed seeing us, we began the week with our session, Continuous Adoption – A Shift in Our User Community's Mentality. This session is centered around Oracle's position to do continuous releases of EnterpriseOne. The E1 community is moving away from the idea of continuous release as an obstacle to an ongoing opportunity to improve user experience and organizational efficiency so we discussed the shift needed in strategies and change management to adjust to this new model. In our next session, JD Edwards Day One – More About a College-Level or Certification Introduction to ERP, we looked at how to get new JDE talent on your team with a college-level, hands-on ERP class that inspires and equips a new generation to be savvy around ERP. Next, we presented A Key to Global User Adoption of Tupperware's Reporting Tool. In this session we discussed how we partnered with Tupperware to review software selection, got buy-in from each business unit to leverage a new tool, and how we promoted and sustained user adoption through training options for busy users around the globe.
Our fourth presentation, Extreme Personalization for the Fully Integrated User, offered us the opportunity to show the full extent of what users are able to do with personalization for any JDE application. We showed how to use every feature in as many combinations as possible so that users can better take advantage of these tools. Next, we had two sessions related to UPK, Replacing UPK and the Case for Modern Learning Tools and UPK Use Cases: A Discussion of Different States. These sessions offered us the chance to discuss the current state of UPK, how to leverage previously created UPK content, best practices for developing new UPK content, and UPK-like modern employee performance support tools. Next, we held a session called Scoping the People Part of JDE Training, where we looked at best practices and percentages related to overall budget spend and training, as well as the return to expect on your organization's investment in training. We also highlighted some modern training options that are available to support your JDE users. Last, but not least and perhaps our most popular session, Release 23 Tools Upgrades, provided a look at all of the just released exciting tools. We highlighted these new features and their value for the E1 user community.
In addition to our presentations, we hosted free live demos in our booth. These demonstrations included a quick dive into our Academies – The EOne Academy, The End User Academy, and DAS University. We also presented on the current state of UPK and provided an inside look into UPK-like tools (including tts knowledge force), our custom Learning Management System solution, as well as hosted a Q&A session on UX One.
We loved connecting and re-connecting with customers during the conference about their current initiatives, needs, questions, plans and experiences in the JD Edwards space! If you missed us or are interested in any of our sessions or more information about how we can help with your next training initiative, please contact us here.
Like this? Please share.