You've probably already seen this popular cartoon on customer needs, wants and expectations. If you haven't, it's a comical depiction of the process of communication breakdown that often occurs between customers and the vendors they higher to help them complete a project.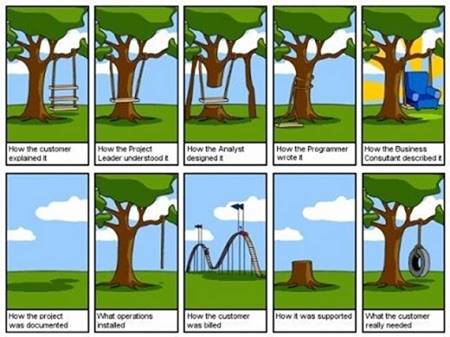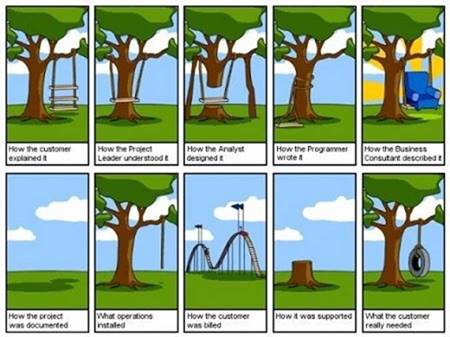 How do we help customers get the 'tire swing' they need and adequate support and documentation and stay within budget? One of the things this cartoon highlights is the complex set of variables that outside consultants might encounter when entering an organization. How do we keep effective communication lines open throughout the entire process of a project implementation? Maybe your 'tire swing' is an upgrade, or maybe its an entirely new ERP. How would we work with you to understand both individual and business needs every step of the way? Training that provides Just-for-Me learning can help to bridge communication gaps throughout the process.
We've blogged in the past about the Just-in-Time learning we offer where learners can access training when, where and how they need with the EOne Academy™. But along with Just-in-Time learning, training also has to be business-centric and learner centered. That means training is provided in a way that is easily accessed, but it also matches the needs of the individual learner with the needs and goals of the business. One of the ways we provide customized training in addition to the resources our EOne Academy™ offers is by working with subject matter experts within your organization to get a sense of what the needs look like throughout the business. We can then document and support those individual processes with a variety of training including UPK (user productivity kit), ILT (instructor led training), instructional videos, Q & As, and quick reference cards. We can help you connect the dots across your organization to make sure that individual business and learning needs within the organization are all tracking together towards the same overall outcome.
Like this? Please share.