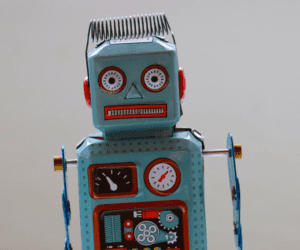 Last week I had the pleasure of attending an event at INDUSTRY in Denver, Colorado called, "Building a Trust-Based AI Ecosystem." This event brought together AI innovators to explore questions related to artificial intelligence and the ways AI is reshaping our world. There were a number of interesting speakers and participants, and subjects included working with robots to better and more safely sort recycling, AI in hospital settings to alert staff as quickly as possible of patients developing sepsis, and AI that would alert NASA if astronauts headed to Mars were in psychological distress. Though perhaps not as exciting as successfully completing a mission to Mars, I couldn't help but think about my own industry and the ways in which AI is already impacting training development, and the ways it will impact it in the future.
The biggest way we are already using AI in training development is with learning platforms that optimize the training experience. Employee performance support (EPS) software has come a long way in recent years, and increasingly we are seeing the ability of this software to gather smart analytics on things like, for example, what helps or resources are being accessed and when so that training can be targeted where it is needed most within the organization. In the future, employee performance support software and learning experience platforms (LEP) will also use data gathered in order to aggregate and curate personalized content and resources. Users will be able to interact with automated suggestions in order to further refine results and create a more customized learning experience.
In addition to EPS software and similar tools like LEPs, modern Learning Management Systems (LMS) like the one we use at iLearnERP (SAP Litmos) are gaining increasing AI capabilities. Data and analytics on learners and teams has never been easier to gather and visualize, and AI will help trainers leverage the data accordingly. For instance, we'll be able to track not only if a learner completed a course, but whether or not they paused within the course and other user behaviors in order to tailor more targeted learning outcomes. And, AI not only makes training easier for learners, but on the back end for developers, Litmos, for instance, has AI built into its responsive design so that content will automatically appear in the best mode possible for the learner depending on their device. This is just one example of something training developers had to spend much more time on in the process of content creation to accommodate learners.
My last blog highlighted the ways in which developing a learning culture that is ready to answer the challenges of the modern workforce is key to organizational growth. This will be all the more true with the continuing expansion of AI in the workforce, and development and implementation of a continuous-learning model will be an important component of how organizations can keep up with these changes. Modern training solutions and software can give organizations a leg up on innovation and keeping their workforce up-to-speed. We at iLearnERP will stay up-to-date on the latest tools and trends to support our clients and create a customized learning experience that is modern and effective.
-April Favara
Like this? Please share.