eLearning is the future. At iLearnERP we are constantly updating our EOne Academy™ to make sure our users have access to learning the latest content. We are always adding new courses, modules, quizzes and activities. Along the way we continue to explore how effective eLearning can decrease costs and increase productivity with 24/7 access.
So what are the benefits of eLearning over onsite instruction in addition to saved cost and added productivity?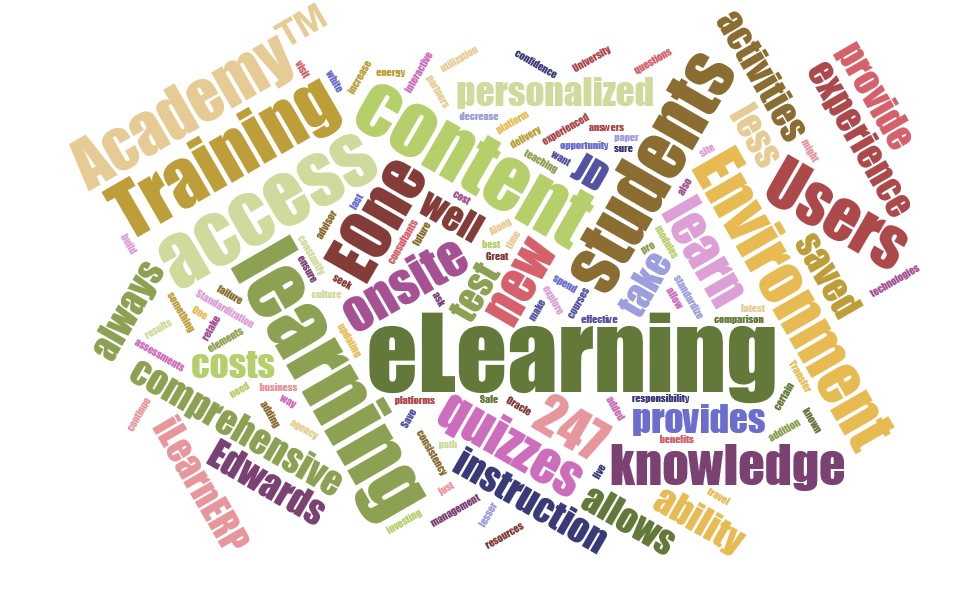 Standardization of Content – eLearning provides the opportunity to standardize content in comparison to on-site teaching or training. This allows for consistency in delivery and comprehensive learning for students. The EOne Academy™ partners with Oracle and the most experienced training consultants in the business to ensure that our content is comprehensive.
Personalized Learning – eLearning technologies allow users to take responsibility for their learning. Students have the ability to access content 24/7, and can spend more or less time on certain elements as they need. iLearnERP provides users of the EOne Academy™ with a personalized training path, as well as 24/7 access to their training advisor.
Knowledge Transfer and Experience – Great eLearning platforms provide not just access to knowledge through instruction and content management, but they also provide interactive experience for students to test their knowledge. Users of the EOne Academy™ have access to a live environment to test their learning, as well as to white papers, activities and quizzes.
eLearning is a Safe Learning Environment – Students learn best in a culture that allows for failure and the freedom to always learn something new. In an eLearning platform, students have the agency to seek out the answers to the questions they might not want to ask in an on-site environment, retake quizzes or assessments, and build their confidence as they take on new learning.
Better for the Environment – One last lesser known pro is that investing in eLearning results in the consumption of less energy through saved travel costs and the utilization of other resources.
To learn more about our JD Edwards Training University you can visit our site here.
Like this? Please share.