Record It! is a light version of the full UPK developer that takes only minutes to learn how to use. Best of all, what it records can be imported into the full developer for validation, refinement, editing, and format standardization. With this version came a totally revamped licensing model. No longer was it tied to Oracle's requirement of a full developer license. Here is a useful, streamlined tool compatible with the full UPK developer. And it's free. Too good to be true?
Record It! is a tool that can promote collaboration. Business sponsors, project managers, software developers, business analysts (BAs), super users: all are potential Record It! users. By creating a raw recording, they have a very real stake in the final product. Further, it can be a catalyst. Nothing quite like a recording to expose software design and functional flaws, critical missing process steps, and bumpy customization flows.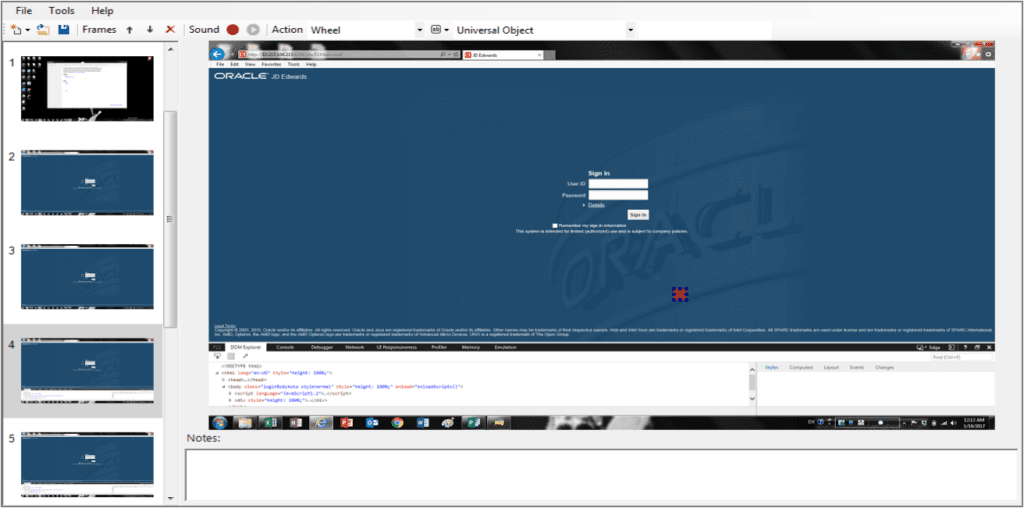 4 Keys to a Successful Rollout of Record It!
1. Know WHERE to find the software. By default, your UPK server provides the necessary access. The directory is located at this URL: http://
[ServerName]:[ServerPortNumber]/ODSContent/Public/RecordIt. You might want to check with IT for the server name. If you installed a single-user version of the developer, you can find it in the installation software (path: /Branding/<brand>/Installer/recorditsetup.exe).
2. Decide HOW to distribute it to users. Whitelisting, AppLocker, temporary admin rights, or silent installation are options.
3. ESTABLISH a network location for the recordings. A shared folder functions well as a dropoff point – where UPK authors with the full developer can pick up the .topic files from Record It!
4. COMMUNICATE its value to your business. Show BAs an edited, final/approved UPK that began life as a raw recording created with Record It! Make sure new users see a FINAL product, not a raw recording.
Once Record It! has been distributed, it's a good idea to establish a checklist. Below is an example of one such list, sure to make editing easier:
Record It! Checklist
Before you begin recording:
Check Windows screen display settings. To record, it must be Smaller – 100% (96 dpi).
Set screen resolution at 1024 x 768.
Prepare a script.
Verify application data.
Exit Snagit if it is running.
Auto-hide the Windows task bar.
Launch browser and access the application to be recorded. Press F11 for full-screen mode. Verify the zoom control is set to 100%.
Eliminate distractions. Turn off all other applications, especially those with pop-up alerts such as instant messaging, email incoming message alerts, and pop-up meeting notifications and other reminders.
To scroll, avoid dragging and using a scroll wheel. To simplify editing, use single clicks to scroll a list.
About the Blogger
Tim Christian is a longtime UPKer whose first car was a Volkswagen Beetle with a manual transmission. By coincidence, manual recording was the ONLY option on his first UPK project. Automatic recording didn't exist. Through the years, he has seen Infoblocks and the OnDemand Personal Navigator (ODPN) morph into the library, custom skins, style sheets, Test It, screenshot overlays, and Knowledge Center. Besides delivering UPK training, he is iLearn's technical consultant with experience configuring network setup and deployment in all sectors of enterprises large and small. He lives in Minneapolis and enjoys running, swimming, and watching all sports – especially baseball.
Next Blog: Custom Skins and Style Sheets
Like this? Please share.