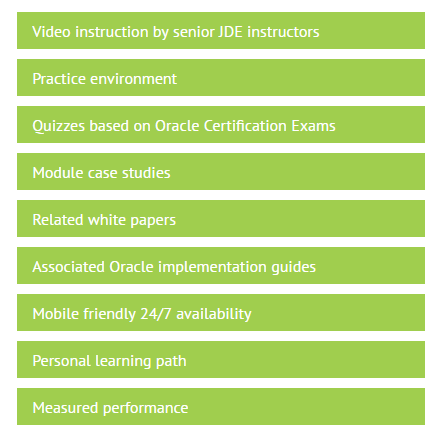 There's a lot of buzz lately around anytime, anywhere training that's also digestible for today's modern learner. The EOne Academy™ provides just that – a multifaceted training solution based on the latest in adult learning theories. Now with over 30 modules and 700+ courses, we are always adding new content and constantly adjusting our approach to training to meet the needs of learners today. Want to see what courses we offer? View our Course List.
So how does our learning solution help you get the most out of JD Edwards? And, how do we stay on top of the best in modern training approaches so you don't have to?
Microlearning. The latest research suggests that tested participants who take shorter (or even medium) length courses out-perform tested participants who take longer courses. The theory is that shorter instruction creates less of a cognitive burden for learners, who can then better process their learning into their memory. We've designed training with shorter bursts of instruction that can be followed up with practice, anytime, anywhere.
Showing vs. Telling. Our video instruction is designed to show processes in a repeatable way that's also easy to digest. We keep introductions to material short and clear, focus on one topic or function at a time, and demonstrate instruction.
Doing. Learners in the EOne Academy™ can test their retention with automated quizzes and practice in a simulated environment. This technology also supports microlearning and can be completed in shorter bursts when learners can fit the training into their busy schedules.
Customization. Even the best approaches to today's modern learner don't necessarily accommodate the differences in individual learners, whether it's their age bracket, learning style, or simply the amount of time they have to devote to training. We customize our training to help you get the most out of it with a custom and personal learning path, provided to your by our trainers who you can access 24/7 for assistance.
Want to learn more? Access our EOne Academy™ page.
Like this? Please share.