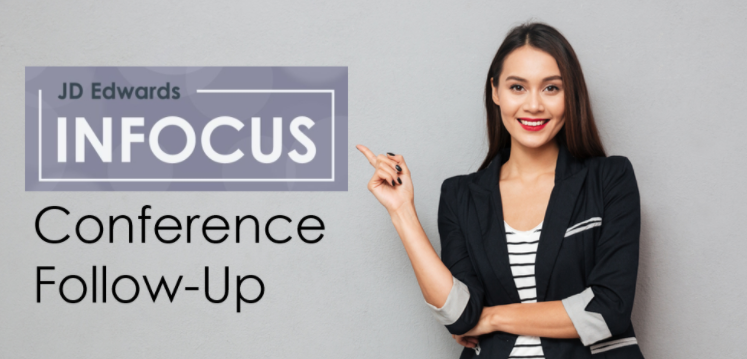 We love our JD Edwards community and had a great week at this year's virtual INFOCUS event! We kicked off the week with our hands-on workshop covering all the UX One Tools and UDOs. We walked through the UDOs that made up the UX One Role Based Pages and explored each tool individually, answering key questions along the way.
Orchestrator was a hot topic so we were pleased to present a session on Strategic Planning and Implementation of E1 User Tools, which explored UX One and best practices for implementing UX One tools. We also presented a session on UX One Role based pages, with direct discussion towards end users using this valuable tool for the first time.
In addition to our workshop and presentations, we hosted free live demos in our booth. These demonstrations included a quick dive into our EOne Academy, a look at the current state of UPK and UPK-like tools, online training tips and tricks, a look at our eLearning platform for ReportsNow DAS, a quick dive into our End User Academy, live UX One Q&A sessions.
Last, we loved talking to customers and vendors during the exhibit. This year we gave away a 2-pack of wifi signal boosters, along with goodie boxes! We loved chatting with customers about their current training needs, initiatives, plans, and experiences in the JD Edwards space. We're committed to creating partnerships that offer valuable and long lasting support to our customers so that they get the most out of JDE.
Did you miss JD Edwards INFOCUS? Quest User Group has posted slides and recordings on their website. Quest members can view these recordings now by going to the Quest User Group website, clicking the Learn tab and searching Infocus in the Search box.
Like this? Please share.