Do you anticipate changes in technologies that will result in product and service changes, process changes, or enablement changes? Digital transformation, disruptive technologies, and IoT require big changes to organizations today necessitating a proven method of innovation process support with a clear methodology. These changes may not necessitate a new business model, however a technological change can impact operations, delivery, efficiency, etc., and should align with the overall vision of the organization.  A culture that is fostered to be willing to adopt change will have a better rate of success. So, what are the stops needed on the way to an organization's innovation journey?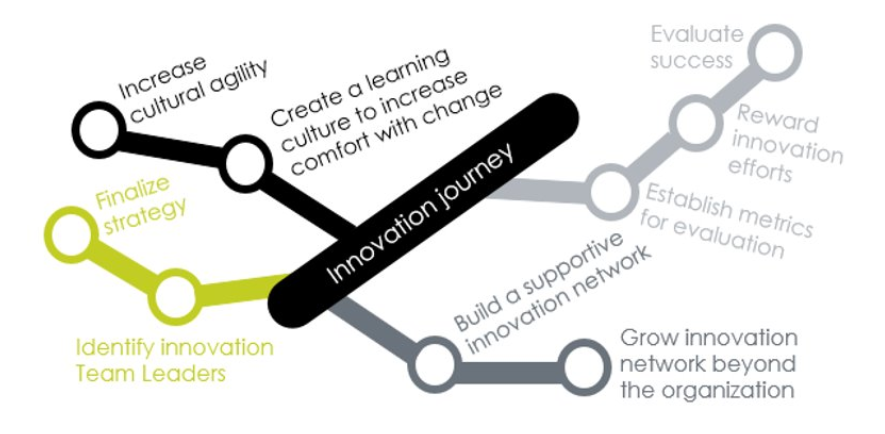 On the Green Line

–

strong leaders that can create buy-in for innovation as well as provide direction and encouragement to experiment within the confines of the overall goals of the organization will be a key to initial innovation success.
On the

Gray Line

– the organization will need to develop internal networks and eventually external networks that encourage learning and innovation and a willingness to see how other companies are innovating and learn from their successes and mistakes.
On the Black Line – there will be a need to create a learning culture that is comfortable with change through clear communications, and opportunities to learn will help to increase comfort with change and eventually increase agility. Communication on what's in it for individual employees will need to be clear to create buy-in among the employees by leadership.
On the Light Gray Line

–

for innovation to be successful, the organization will need to have clear goals and ways to measure success from the outset of the process. They will need to encourage and reward employees willing to adopt change and help move the company towards innovation. The organization will also need to evaluate at the end of any specific initiative as well as along the way for an overall innovation journey to make corrections where necessary.
So, whether you are moving to the cloud, going through an upgrade, or just looking for better ways to do things, a clear process for innovation will lead to greater success. Our experience with organizational change and companies adopting new technologies means we can help! Contact us today to see how we can help with innovation process support.
Like this? Please share.