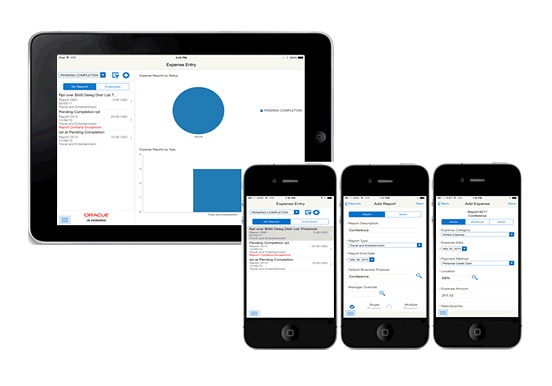 According to Oracle, the "JD Edwards EnterpriseOne Mobile Enterprise Solutions offers the mobile workforce an array of role-based and fit-for-purpose mobile applications with a modern user interface on the device of their choice for increased business efficiency." Efficiency and an increase in worker productivity is a huge plus in today's fast-paced world, but what are some other specific benefits to using a mobile ERP? You can access Oracle's datasheet on mobile applications  along with an overview and other tools here to find out more, but I thought a helpful summary might be useful for evaluating whether or not to begin to utilize any or all of the more than 80 mobile applications by JD Edwards.
Improve Business Relationships – With an increase in worker efficiency and productivity, mobile applications can also improve relationships with customers because workers can more quickly access and relay information, even when on the go.
Increase Data Entry Accuracy – With mobile solutions, workers can enter data in the field, rather than gather data and re-key it into the system at a later time. This can minimize steps and the time between when data is gathered and when data is entered, which also minimizes the chance for error.
Leverage Security – Users maintain their user-specific roles and access settings, and mobile solutions  integrate with the Cloud, so there's no need to worry about any compromise in security.
Customize and Compete in Today's Market – Improving productivity, response time, security, and ease of use translates to a competitive advantage in today's market, but what if you need your mobile solution to customize to a particular business process?  "JD Edwards provides an integrated development platform for developing and customizing Mobile Enterprise Applications to meet specific or unique business requirements." Maintain your customized processes in order to keep customers happy and productivity high.
Some factors to keep in mind when implementing the use of mobile technology in your organization to make sure it is a success are also important to consider. For instance, will your users have adequate connectivity ability to use the mobile applications successfully? Who needs to be mobile, and how much capability will they need? Does a tablet or a smartphone better provide the necessary text input capabilities certain users will need?
As a millennial, the transition to mobile seems natural and timely to me, but even for millennials mobile platforms are not always intuitive. Providing clear and specific objectives around the upgrade to mobile for your users can help to ease anxiety, along with making sure you clarify why you are making the move and what specific resources will be available to your users when they need assistance before you make the switch.
Like this? Please share.